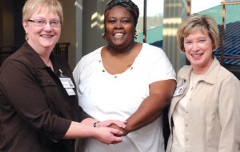 When Jocelyn Porter of Dayton was told she had Stage 3 breast cancer, she felt her world had just collapsed. At age 39, Jocelyn noticed a hard, red area on her right breast.
She was referred to the Breast Center at Miami Valley Hospital North.
"They did a mammogram, ultrasound, and needle biopsy," says Jocelyn.

She learned she had invasive ductal carcinoma, an advanced form of breast cancer.

She says that her emotions have run the gamut and still feels it isn't happening to her. "I'm still in denial. I just can't believe it."
But the team at the Breast Center has helped her every step of the way, even when she realized her paycheck wasn't going to cover her living expenses. "I had missed so much work that my paycheck was nothing! I still had my insurance, but I couldn't pay my rent."
That's when Ann Lensch, breast cancer coordinator, and Connie Ickes, a social worker, of Miami Valley Hospital North stepped in to help.
"Ann told me about Jocelyn and how she needed assistance," says Ickes. "We've been able to help Jocelyn through the Breast Cancer Fund of Ohio." The Breast Cancer Fund of Ohio (BCFOhio) provides emergency financial assistance for Ohio breast cancer patients.
"We've helped with medical bills, utilities, pharmacy, and rent," Ickes says. Eligible breast cancer patients can also seek assistance from the BCFOhio at the Upper Valley Medical Center Cancer Care Center.
With the financial assistance, Jocelyn was able to go on leave from work through the Family and Medical Leave Act. The financial help allowed her to focus on getting better.
"Hands down, they are the best. The nurses, staff and social workers are the best. I'm so thankful to them," Jocelyn says.