Becky's Story: Seizure Free and 'Only Taking Two Pills'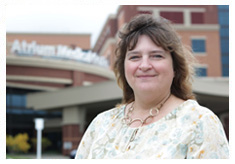 Becky France honestly believes Subodh K. Wadhwa, MD of Comprehensive Neurology Associates in Middletown saved her life. Prior to crossing paths with Dr. Wadhwa, Becky was plagued with a life of seizures.
The 46-year-old Middletown resident had her first seizures as a child. Her mother recalls they were petit seizures, which are seizures that involve periods of staring. They started out as periods of just staring, but as she grew, her seizures grew. By the time she was 14, she was having grand mal seizures frequently. Grand mal seizures involve muscle contractions, muscle rigidity, and loss of consciousness. They affect the entire body. She experienced a grand mal seizure while driving which caused her to crash her car as a teen. She eventually gave up driving.
She went from neurologist to neurologist who prescribed more pills which did little to control the seizures. The side-effects of many of these pills were worse than the seizures.
Becky and her then-husband went on a cruise during which she had 27 seizures and ended up in a coma and hospitalized. She lost a pregnancy and ended up divorcing and moving home with her mother.
Becky was referred to Dr. Wadhwa and admits she was reluctant because of her past disppointments. "He did lots of tests on me and asked me lots of questions. Then he took me off all my medicines," she recalls. "He gradually put me on new medicines and I kept track of how I felt and my seizure activity."
Becky's first visit with Dr. Wadhwa was in 1995. "I haven't had a seizure in 11 years and I'm only taking two pills. It's amazing. I have my life back. Dr. Wadhwa is my savior."