Print this recipe
Buttery Roasted Chestnuts
Servings:

8

Calories:

90

kcal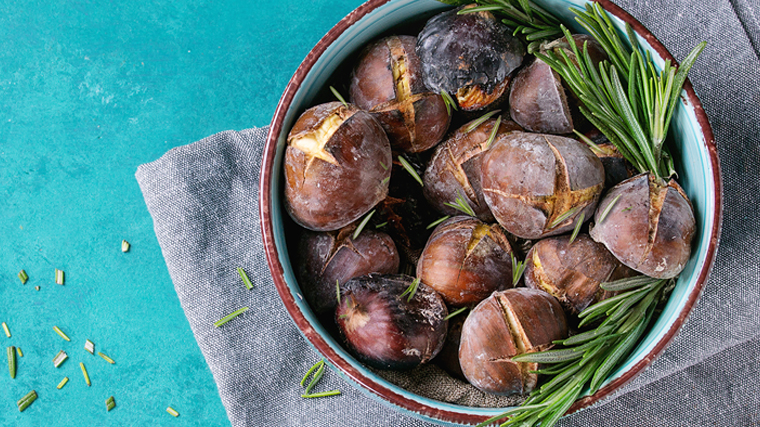 No open fire is needed for this delicious recipe — just your own oven. Make this healthy treat for the holidays — or anytime. Try the recipe now!
Ingredients
2 pounds fresh unshelled chestnuts
2 to 3 sprigs rosemary
1/2 cup (1 stick) unsalted butter (melted)
2 teaspoons (or more to taste) kosher salt
Pinch of freshly grated nutmeg
Freshly ground black pepper
Instructions
Preheat oven to 425°F.
Place chestnuts flat side down on a hard surface.
With a utility or paring knife, carefully cut through the shell on the rounded side of each chestnut to score an X.
Soak in a bowl of hot water for 1 minute. (This will help them to steam while roasting.)
Drain chestnuts and pat dry.
Place in medium bowl with rosemary, butter, 2 teaspoons salt, and nutmeg. Season with pepper and toss.
Arrange chestnuts in a single layer in the center of a foil lined baking sheet.
Gather up the edges of foil around the chestnuts, leaving a large opening on top.
Roast until the peel begins to curl up and the chestnuts are cooked thoroughly (30 to 45 minutes), depending on the size and age of nuts.
Transfer chestnuts to a platter using a spatula to scrape in any butter and spices with them; toss to coat.
Season with more salt if desired. Serve hot or warm.