A Proven Way To Eat For Better Overall Health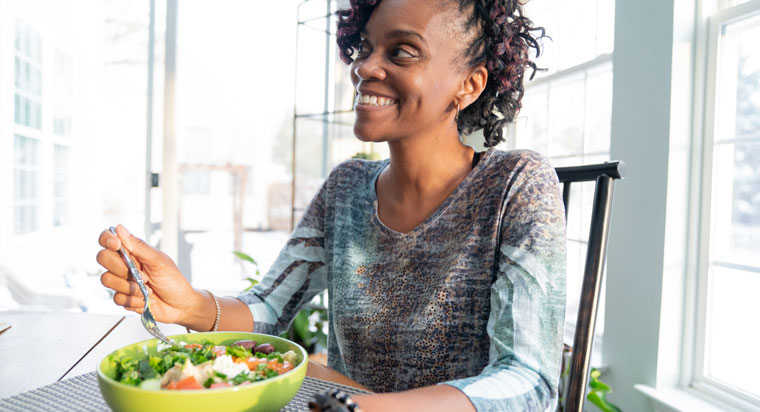 Diet fads come and go, but the Mediterranean diet is a way of eating with staying power. This eating plan does not focus on specific portion sizes. And healthy fats are part of the menu.
Known for being high in fiber, moderate in protein, and low in fat, the Mediterranean diet includes minimal processed foods or toxins. It consists of daily intake of whole grains, olive oil, fruits, vegetables, beans and other legumes, nuts, herbs, and spices. The preferred animal protein is fish and seafood. Moderate amounts of red wine and small amounts of dairy also are allowed.
Numerous studies show the Mediterranean diet is one of the most effective diets for health, leading to a decreased risk of heart disease, depression, and dementia.
Elements Of the Mediterranean Diet
The plant-based Mediterranean diet, enjoyed by people in France, Greece, southern Italy, and Spain, follows these general guidelines:
Every meal includes:

Vegetables
Fruits
Whole grains (whole wheat bread, brown rice, quinoa, and bulgur)
Olive oil
Beans
Nuts
Legumes (lentils, dried peas, and beans)
Seeds
Herbs and spices

Eating fish at least twice a week
Eating moderate portions of cheese and yogurt daily to weekly
Eating moderate portions of poultry and eggs every two days or weekly
Eating red meat sparingly or limit more frequent servings to 3-ounce portions
Drinking lots of water daily
Drinking wine in moderation (one 5-ounce glass a day for women; two glasses a day for men)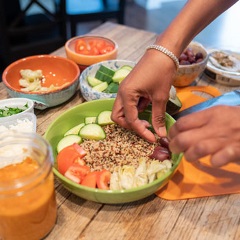 You can take these simple steps to start transitioning to a nutrition plan that's more aligned with the Mediterranean diet:
Sauté food in olive oil, not butter.
Eat more fruits and vegetables by having them as a snack or adding them to other recipes.
Choose whole grains instead of refined breads and pastas.
Substitute fish for red meat at least twice per week.
Limit high-fat dairy by switching to skim or 1 percent milk from 2 percent or whole.
Finally, be sure to dine with loved ones and those you enjoy spending time with. The Mediterranean culture revolves around family meals, which bring beneficial social aspects to heart-healthy eating.
Known for being high in fiber, moderate in protein, and low in fat, the Mediterranean diet includes minimal processed foods or toxins.
What the Research Shows
Eating like you live near the Mediterranean brings many positive health benefits, whether you've lived your life that way or adopt the diet in middle age. This food lifestyle is proven to:
A 2013 study of 10,000 women found the surprising impact of the Mediterranean diet on women in middle and later life:
Women who followed a healthy diet during middle age were about 40 percent more likely to live past the age of 70 without chronic illness and without physical or mental problems than those with less-healthy diets.
The healthiest women ate more plant foods, whole grains, and fish; ate less red and processed meats; and had limited alcohol intake.
Many age-related chronic diseases and health conditions, such as age-related brain diseases and mental illness, are tied to inflammation and oxidative stress.
The positive effects of the Mediterranean diet come from food as a health booster:
Whole grains, legumes, fruit, and vegetables are packed with fiber, which slows digestion and helps control blood sugar.
Monounsaturated fats in olive oil, nuts, and fish can have anti-inflammatory effects, which may help stave off heart disease and many other conditions.
The Harvard School of Public Health reports that another study of nearly 26,000 women found that those who followed a Mediterranean-type diet had 25 percent less risk of developing cardiovascular disease over 12 years. The 2018 study found that changes in inflammation, blood sugar, and body mass index were the biggest positive drivers.
Several 2017 studies, according to the Harvard School of Public Health, found that the Mediterranean diet also impacts aging and cognitive function.
Better Than a Low-Fat Alternative
In 2013, the PREDIMED study – a primary prevention trial including thousands of people with diabetes or other risk factors for heart disease – examined the impact of a Mediterranean diet supplemented with extra virgin olive oil or nuts and without any fat and calorie restrictions:
Reduced the rates of death from stroke by roughly 30 percent
Reduced the risk of type 2 diabetes
The results of the PREDIMED study were re-examined in 2018 after flaws with the earlier 2013 study methods were found. The second analysis confirmed that a Mediterranean diet rich in olive oil or nuts:
May be more effective at preventing heart disease than a low-fat diet
Reduces the risk of heart events, especially in adults at high risk for heart disease
A healthy diet can only be successful if you can stick with it. If following the Mediterranean diet is too difficult, you can try a few of its easier aspects, such as eating nuts or increasing fish intake.
Even small changes in a diet can have significant health benefits when maintained over time.
Sources: NYU Langone Health, Harvard Health, Harvard School of Public Health, American College of Cardiology