'Bye-Bye' with Baby: Travel Tips for Brave Parents
Find Your Perfect Match
Answer a few questions and we'll provide you with a list of primary care providers that best fit your needs.
Taking a vacation with a baby in tow can be nerve-wracking, but many do surprisingly well, making the most of time in the plane or car by napping. If your infant isn't a blissful sleeper, you'll have to have a few tricks ready. But keep in mind, even if the travel hours are long, one day, this will all be a memory (hopefully, a good one!).
Here are a few tips for making your "bye-bye" with baby the best possible:
In the Airport and Plane
Give your family extra time to get through security. Consider bringing a stroller for zooming through the terminal. You can check it at the gate.
Wash your hands frequently to avoid sickness during your trip.
While the Federal Aviation Administration (FAA) allows children under 2 to sit in your lap during a flight, the American Academy of Pediatrics encourages families to look for options where your baby has her own seat, in an FAA-approved car seat. If that doesn't work with your family's budget, see if you can find a plane that is not completely full, where you may have an empty seat next to you.
Make sure you have a car seat ready for your destination. If you're not using it onboard the plane, airlines generally let families check it without additional luggage cost. (Make sure to check first!)
In the plane, you may have to deal with ear pain. Encourage sucking (either using a pacifier or bottle or breastfeeding) during takeoff and initial descent.
If your baby is not sleeping during the flight, make sure you have toys to distract. If he is crying, check out the diaper situation, make sure he isn't hot or cold, etc. (just like you would go through the standard list at home). If you've gone through all the normal issues and he is still crying, don't lose your cool. Keep calm and remember that the flight won't last forever. Most of the passengers onboard can't hear your baby (due to the aircraft noise) and most won't be frustrated. If some are, remind yourself that they aren't being very reasonable. Everyone was a crying baby at some point, and you are doing the best that you can.
Keep calm and remember that the flight won't last forever.
In the Car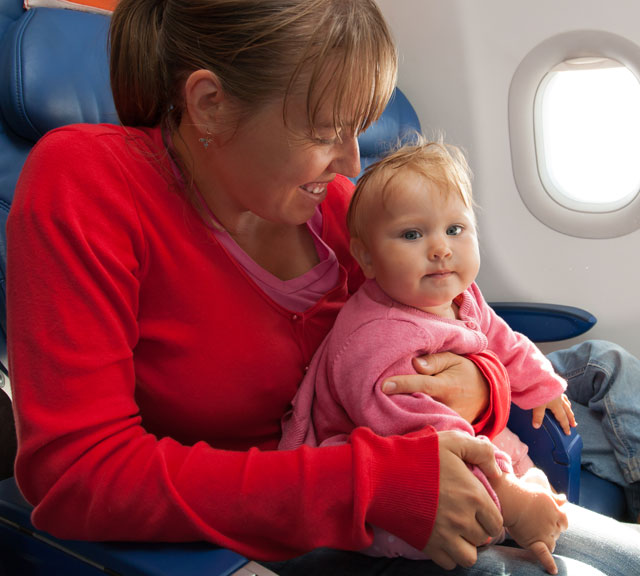 Time your trip so that the bulk of driving is during naptime.
If your baby doesn't love to snooze in the car, make sure to pack lots of music and distractions. You and your partner can take turns sitting next to the baby and driving.
Attach toys to your baby's car seat so that something doesn't fall and make her upset.
Take breaks often. Make the most of mealtime and bathroom breaks to stretch your legs and play with your baby outside of the car.
Make sure to always follow safe car seat guidelines — even if you're tempted to relax the rules for the sake of extra ease. The American Academy of Pediatrics recommends that your child stay rear facing until age 2. If you're traveling internationally in a car or in a taxi, you still need to be vigilant about this (especially since travel by car in developing countries can be especially dangerous. Emphasize to your driver that you prize safety over speed and will reward him.)
In the Hotel
If you're not using your own Pack n' Play™, make sure that your hotel's crib option is up-to-date and safe.
Your baby should always sleep in the same room with you, and you should follow the same safe sleep habits that you do at home: Always on the back with nothing else in the crib.
Find Your Perfect Match
Answer a few questions and we'll provide you with a list of primary care providers that best fit your needs.
Source: healthychildren.org; What to Expect; American Academy of Pediatrics;