Surgeon from California Settles in Dayton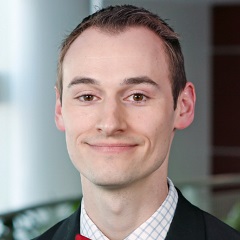 Zachary L. Simmons, MD, specializes in general surgery at Upper Valley Medical Center.
What brought you to Premier Health?
I came to Wright State for my general surgery residency and liked the community. Miami County surgeons and Upper Valley have been great to work with.
Why did you choose medicine as a career?
Both of my parents were nurses, so I had exposure to medicine. I couldn't think of anything that would be more interesting. Surgery has an amazing ability to create lasting changes that benefit people and their families.
Who are the people who influenced and/or mentored you?
Dr. Buxton helped get me into the operating room before graduating high school.
Dr. Baldwin was my mentor during medical school, and the chief investigator on several research projects.
Where did you go to school?
Loma Linda University School of Medicine in California
What is one thing most people don't know about you?
I started my medical career working in central sterile in a community hospital.
Where is your hometown?
Bakersfield, CA
What, if any, sports team(s) do you cheer for?
I probably have not followed any regularly since the Wayne Gretzky-era Kings
What is the last book you read?
"The Paris Architect"
What is your favorite song in your playlist?
"Minor Swing" by Django Reinhardt at the moment
What is your favorite food?
Pho or ice cream
What is your favorite hobby?
Hiking with family
Where is your favorite vacation spot?
St. Kitts – less developed beaches with family, and as an added bonus: no phone service for me.
Describe something for which you are especially thankful:
I am thankful for my wife and her ability to care for me and our daughters, especially given our erratic schedules. She has been very supportive, and I cannot imagine a better friend.
Pick a Side
iPhone or Android?
iPhone
Early bird or night owl?
Night owl
Beach bum or mountain hiker?
Beach
Dress shoes or tennis shoes?
Dress shoes
Paperback or e-reader?
Prefer hard copy, but e-books and audio are more accessible
Coffee or tea?
Coffee
Cooking or baking?
Cooking
Sweet or salty?
Salty
Back to the May 2018 issue of Premier Pulse