Service Line Update: Neurological Infusion Treatment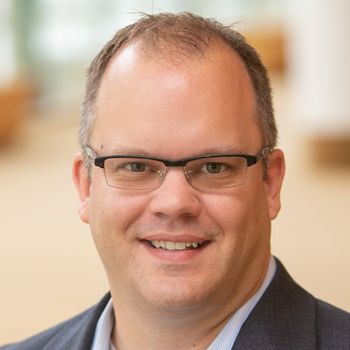 By Jason Merritt, vice president, Premier Physician Network specialty services and neuroscience service line
It is widely recognized that health care is rapidly transitioning more services to the outpatient and ambulatory setting. Neurosciences are not immune to this change in care paradigm. One area in which this change has been most evident is in the delivery of infusion treatment for both chronic and acute neurological conditions. Premier Health Neurosciences, through the Clinical Neuroscience Institute (CNSI), has developed a consumer and provider centric model to meet this growing patient need.
Under the leadership of Tracey Eicher, MD, MSCS, certified neurologist and Richard Kim, MD, board certified in headache medicine, CNSI has developed a program that is aimed at treating Multiple Sclerosis (MS), NeuroMyelitis Optica (NMO), Central Nervous System (CNS) Vasculitis, Acute Disseminated Encephalomyelitis (ADEM), and migraine.
The CNSI Infusion Center offers a variety of best practice therapies focused on MS and migraine. These therapies include: Tysabri, Ocrevus, Lemtrada, and Rituxan for MS. For migraine: Dihydroergotamine (DHE), Magnesium Sulfate, Imitrex, Solumedrol, Keppra, Vyepti, and several other traditional migraine treatments. The infusion center is supported by three registered nurses and two preauthorization specialists. In 2019, the CNSI infusion center completed nearly 1,000 infusion therapies. Dr. Eicher and Dr. Kim also participated in various clinical trials for new treatment options.
In addition to the most up-to-date therapy, patient benefits of the infusion center start with the care area. CNSI is the only neuro-infusion center in the area in which each patient is treated in a private room with a comfortable infusion recliner. According to Dr. Eicher, "Patients love receiving their infusions in the same location as they see their MS or headache team." The nursing staff is experienced with the medications and can offer direct patient and family education. Many of the conditions treated in the infusion center are chronic and the patients benefit from the rapport established with staff during ongoing treatments. With the infusion center located in the CNSI clinic, providers have immediate access to the patient for any issue or treatment questions.
Providers can easily refer patients to the CNSI infusion center by sending a referral to Dr. Kim or Dr. Eicher. Our team will establish a care plan and preauthorize and schedule treatments. Migraine patients established with Dr. Kim or Marie Chambers, CNP, can also receive acute treatments as needed, including same-day or next-day infusion appointments. Offering acute infusions prevents unnecessary emergency room visits and potential admissions. Next year, we will see the addition of infusion therapies for dementia under the direction of Christopher Jansen, MD.
The infusion center has allowed CNSI to bring best practice infusion treatments and cutting-edge clinical trial medications to patients and providers in the Miami Valley. If you have a patient who would benefit from the infusion services, please send an EPIC referral to Dr. Eicher or Dr. Kim. You can also fax a referral to (937) 208-5143(937) 208-5143 or call (937) 208-4200(937) 208-4200.
Back to the June 2020 issue of Premier Pulse