Recognizing Telehealth Week

By Megan Elsass, telehealth program manager, Premier Health
Telenursing Spotlight
Telenursing is an innovative care model pilot program that began in May 2023 in select inpatient units at Premier Health hospitals. In this pilot program phase, a virtual nurse is assigned the distinct responsibility of admitting and discharging patients using Premier Health's own telehealth technology. The bedside clinical teams can focus on hands-on tasks by designating appropriate tasks for the virtual nurse. Three months into the pilot, which currently serves five units across three hospital campuses, we have collected feedback from the virtual and bedside nurses involved, and here are their perspectives on the telenursing pilot:
Our workforce's challenges during and post-COVID necessitated a different approach to patient care, such as telenursing. Telenursing allows for more collaboration between the virtual nurse and the bedside nurses. Discharges benefit greatly from a telenurse approach because the patient-teaching portion can be reviewed more thoroughly, and the patients have ample time to receive the information and ask questions.
It has been fun to be part of the team working on telenursing. The team started from scratch and has done a great job of putting together a usable product to help support our bedside staff. It will be even more enjoyable to watch how Telenursing transforms and expands in the next 3-5 years to help support the field of nursing. 
In this care model change, we know that there is always some hesitancy in trying something new, but the units using our resources have seemed to embrace our help, especially Miami Valley Hospital South JS2. It's a pleasure to be a part of the treatment teams for so many patients. We are excited to be a part of growing this new program! 
Telenursing is a great tool to share the responsibilities of the clinical nurse with a highly competent professional, allowing time for patients to be redirected to hands-on care. 
Telehealth Growth Through the Years
Telehealth services used at Premier Health have followed a trajectory similar to that of of the nation, with a clear distinction between pre and post-COVID utilization. While the post-pandemic volumes are universally stabilizing, consumers' and health care providers' demand for telehealth remains substantially elevated and is projected to remain at 38 times higher than pre-pandemic levels. In response to these trends, Premier uses telehealth to develop new offerings and expand existing offerings, while reimagining traditional care delivery.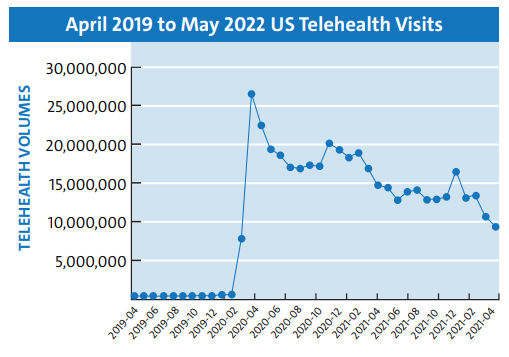 Back to the September 2023 issue of Premier Pulse
Source: https://www.trillianthealth.com/insights/the-compass/telehealth-demand-continues-to-decline-posing-challenges-for-telehealth-providers-and-policymakers