Provider Profile: Dr. Jacob Gibson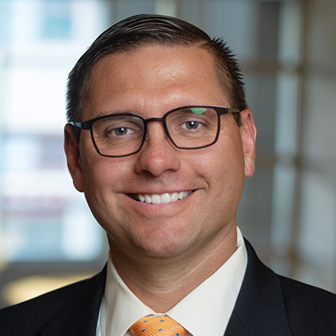 Jacob Gibson, DO
What is your clinical specialty?
Interventional Cardiology
Where did you go to school?
University of Kentucky and University of Pikeville - Kentucky College of Osteopathic Medicine
What brought you to Premier Health?
A chance to practice interventional cardiology in a progressive group setting
Why did you choose medicine as a career?
I loved medicine from an early age. My uncle was a family physician.
Who are the people who influenced and/or mentored you?
Too many to list!
What is one thing most people don't know about you?
I am an avid sports fan and love golf.
Where is your hometown?
Pikeville, Kentucky
What, if any, sports team(s) do you cheer for?
Kentucky Wildcats, Cincinnati Bengals
What is the last book you read?
"Pappyland: A Story of Family, Fine Bourbon, and the Things That Last" by Wright Thompson
What is your favorite song in your playlist?
Anything by Chris Stapleton
What is your favorite food?
A properly prepared steak
What is your favorite hobby?
Golf
What is your favorite animal, and why?
A dog because of their intelligence and companionship
Where is your favorite vacation spot, and why?
Anguilla – beautiful beaches and tropical weather
Describe something for which you are especially thankful:
I am thankful for my wife, Whitney, and my three sons, Jake, Connor, and Graham. They make my life better.
Pick a side
iPhone or Android
iPhone
Early bird or night owl
Early bird
Beach bum or mountain hiker?
Beach bum
Dress shoes or tennis shoes?
Tennis shoes
Paperback or e-reader?
Paperback
Coffee or tea?
Coffee
Cooking or baking?
Cooking
Sweet or salty?
Sweet
Back to the February 2022 issue of Premier Pulse