Premier Health Imaging Expands Access to Reduce Patient Wait Times

By Tracy Short, director of ambulatory imaging, Premier Health
Since 2019, Premier Health has seen significant increases in demand for both inpatient and outpatient imaging exams. MRI/CT volumes alone have grown more than 32% between 2019 and 2023. As imaging leaders, our teams would typically celebrate this volume growth as a true success. Unfortunately, the trend accompanying our volume growth and imaging demand has caused a sizable increase in wait times for our patients in certain imaging areas.
Today's landscape of full-capacity imaging departments coinciding with extreme staffing shortages has created an opportunity for us to reevaluate the needs across the system. Subsequently, expanded OP hours and efficiency improvement strategies have been designed to alleviate the current imaging bottleneck. We hope these strategic endeavors help patients and office staff schedule imaging procedures timely as we advance into 2024.
MRI/CT
The table below represents the additional outpatient appointments that opened in August and possible future appointments. Locations and numbers highlighted in green represent appointments opened during August, and the locations and numbers highlighted in yellow represent the area for hiring personnel to fulfill future appointments.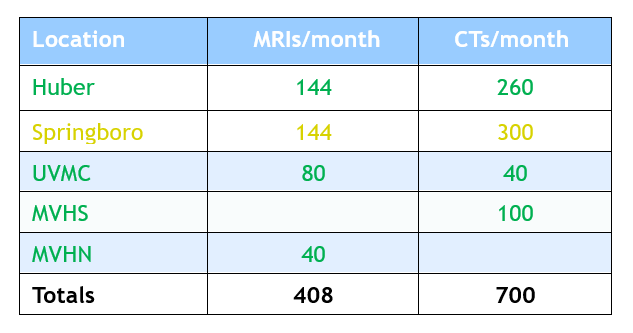 Huber Heights MRI Upgrade
In August, the Huber Heights imaging department installed a new GE Voyager MRI system. This unit features new technology that scans 40% faster for improved throughput and increased image quality. This new system also allows breast MRIs to be performed at this location.
PET/CT Imaging
Mobile Pet/CT service has expanded days, hours, and locations, increasing PET/CT availability by 100/month. Below is a schedule of locations and dates the service is available.

Screening Mammography
Premier Health breast imaging underwent an in-depth productivity analysis in early 2023. Three opportunities for efficiency were identified as part of the analysis. In November 2023, the first of these opportunities will be realized, allowing for an additional 716 monthly screening mammograms across the system. As additional levers can be pulled, access to breast imaging will only continue to increase.
Imaging leadership is dedicated to focusing on initiatives that will improve patient wait times and patient experience. If there is any feedback or urgent concerns you need to address regarding imaging services, please feel free to reach out to the coordinating director or system vice president of imaging.
Back to the September 2023 issue of Premier Pulse