Physician Profile: Troy ENT Surgeon Practices Near Hometown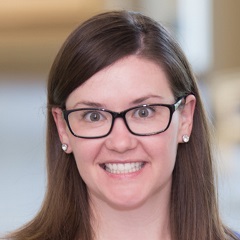 Laura J. Tully, MD, sees patients at Premier ENT Associates in Troy.
What is your clinical specialty?
ENT – otolaryngology
Where did you go to school?
Notre Dame for undergrad, then Emory University in Atlanta for medical school and residency
What brought you to Premier Health?
I grew up in Piqua and decided to move back home to be closer to family.
Why did you choose medicine as a career?
I always knew I wanted to do medicine – taking care of patients was what drew me to it. In college, I debated between PA school and medical school. I shadowed a few Wright State primary care residents when I was in college, and I decided to become a physician.
Who are the people who influenced and/or mentored you?
The Wright State residents encouraged me to go into medical school. In medical school, Linton Hopkins, a neurologist, was my primary mentor. Once I decided to go into surgery, Dr. Michael Johns III mentored me on my path to becoming an ENT.
What is one thing most people don't know about you?
Tully is my married name. My maiden name was Laura White.
Where is your hometown?
Piqua, Ohio
What, if any, sports team(s) do you cheer for?
Notre Dame football
What is the last book you read?
"Crazy Rich Asians" and "Healthy Sleep Habits, Happy Child"
What is your favorite song in your playlist?
I listen to WPTW 98.1 on the radio.
What is your favorite food?
Ice cream
What is your favorite hobby?
Going on walks with my daughter and my dog
What is your favorite animal?
My dog, Leroy
Where is your favorite vacation spot?
Anywhere on the beach
Pick a Side
iPhone or Android?
Android
Early bird or night owl?
Early bird
Beach bum or mountain hiker?
Beach
Dress shoes or tennis shoes?
Tennis
Paperback or e-reader?
Paper
Coffee or tea?
Coffee
Cooking or baking?
Cooking
Sweet or salty?
Sweet
Back to the December 2018 issue of Premier Pulse