Physician Profile: Neonatologist is Huge Buckeye Fan, Enjoys Reading and Bike Riding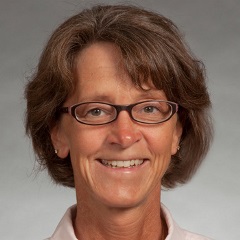 Tammy D. Samiec, MD, sees patients at Miami Valley Hospital.
What is your clinical specialty?
Neonatology
Where did you go to school?
Miami University, then Medical College of Ohio, and residency and fellowship at University of Louisville.
What brought you to Premier Health?
I had been practicing in Columbus, Ohio, after finishing training, but was looking for a different opportunity. I met with the group here and was excited to work with them.
Why did you choose medicine as a career?
My dad was a surgeon, and I was exposed to medicine all my life. When I was very young, I planned to be a nurse, but my father encouraged me to go into medicine. He introduced me to women physicians and sent me textbooks.
Who are the people who influenced and/or mentored you?
I trained under David Adamkin, MD, who is a prominent neonatologist in neonatal nutrition. I always tried to schedule my months on service with him. He was outgoing and knowledgeable, yet dynamic in his teaching style, as well as a Buckeye fan.
My parents shaped my personality and my work ethic.
What is one thing most people don't know about you?
I just completed my Master of Public Health degree last spring after two and a half years of night classes.
Where is your hometown?
Dublin, Ohio
What, if any, sports team(s) do you cheer for?
I am a huge Buckeye fan, pathetically huge. I also root for the Reds, which is much harder. I will watch almost any sport. I am not much of a golf fan, which is ironically my husband's favorite sport to watch.
What is the last book you read?
I just finished "Mayflower," about the pilgrims. I try to mix up my reading – some history, some fun stuff.
What is your favorite song in your playlist?
I don't know if I can pick a favorite.
What is your favorite food?
Milk and cookies.
What is your favorite hobby?
Reading, riding on the bike trails with my husband.
What is your favorite animal, and why?
We have two dogs. I like them for companionship, and I am continuously looking at rescue sites to see if there are more dogs that need to be rescued. My husband would kill me.
Where is your favorite vacation spot, and why?
Beach and a book. The most relaxing thing in the world.
Describe something for which you are especially thankful:
I am thankful for my family, that I have a job that I enjoy, and that I am happy and healthy.
Pick a Side
iPhone or Android?
iPhone
Early bird or night owl?
Early bird
Beach bum or mountain hiker?
Beach
Dress shoes or tennis shoes?
Tennis shoes, lots of colors
Paperback or e-reader?
E-reader
Coffee or tea?
Both
Cooking or baking?
Baking
Sweet or salty?
More salt, but both
Back to the October 2018 issue of Premier Pulse