Physician Profile: Hospitalist Loves Board Games, Video Games, Card Games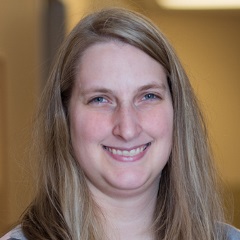 Jessica M. Conn, DO, is a member of the Premier Hospitalist Group and serves on the Premier Health Physician Partnership Committee.
What is your clinical specialty?
Family medicine – currently working as a hospitalist
Where did you go to school?
For undergrad, I went to Milligan College in Elizabethton, Tennessee; LECOM-Erie in Erie, Pennsylvania, for medical school.
What brought you to Premier Health?
I was in private practice in Lancaster, Ohio, looking for a career change so I could spend more time with my family. Through my mom, who works at Atrium, the program director, Dr. Sheps, reached out to me about being a hospitalist.
Why did you choose medicine as a career?
I was originally going to do veterinarian medicine; however, I got a job as a patient care assistant in surgery at the old Middletown Regional Hospital. I really enjoyed working with people. I also got to stand in on a few surgeries just to observe, and that sparked my love of medicine.
Who are the people who influenced and/or mentored you?
My parents, both of whom are nurses. They helped me be the best person I can be.
Also, a lot of the surgeons that I worked with, particularly Dr. Cobb, Dr. Walsh, and Dr. Miller.
What is one thing most people don't know about you?
I love playing games. Board games, video games, card games – I love them all!
Where is your hometown?
Springboro, Ohio
What is the last book you read?
"The Chronicles of Pern: First Fall" by Anne McCaffrey
What is your favorite song in your playlist?
"Derezzed" by Daft Punk
What is your favorite food?
Anything sweet; I love desserts.
What is your favorite hobby?
Playing games – any kind of game: board games, card games, and video games
What is your favorite animal, and why?
Dog – I've had dogs all my life, and they are always there for you no matter what.
Where is your favorite vacation spot, and why?
Las Vegas – the food!
Describe something for which you are especially thankful:
I have a lot to be thankful for. But I think I am most thankful for my children and my husband. They keep me grounded. They are the smiling faces I get to go home to. I can't imagine my life without them.
Pick a Side
iPhone or Android?
iPhone
Early bird or night owl?
Night owl
Beach bum or mountain hiker?
Beach bum
Dress shoes or tennis shoes?
Dress shoes
Paperback or e-reader?
Paperback
Coffee or tea?
Definitely tea!
Cooking or baking?
Baking
Sweet or salty?
Sweet
Back to the August 2018 issue of Premier Pulse