Physician Profile: Hospitalist from Nigeria Has Diverse Background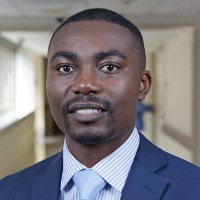 Eseoghene Ayisire, MD, Miami Valley Hospital Hospitalists Group team lead, sees patients at Miami Valley Hospital.
What is your clinical specialty?
Internal medicine
Where did you go to school?
In Nigeria, my home country. I did six years of medical school. We follow the British system, so we go straight from high school to university (medical school).
What brought you to Premier Health?
The diverse illness spectrum in a big teaching hospital was my main attraction. I felt like it would provide me the opportunity to continue to learn in the ever-changing field of medicine.
Why did you choose medicine as a career?
Like many people in this field, I wanted to make a difference in the other person's life. When I was growing up, I thought of it as the "only noble" way to give back to a community. Of course, I was misguided and I now know that there are tons of noble professions.
Who are the people who influenced and/or mentored you?
I easily recall two people in 2011. I was unsure of what the next phase of my life would entail. I had relocated to England in June of that year, and I had no idea what was coming next. I went to a local ER and spoke with them about joining the workforce. Then I met Mr. Akin Idowu, a UK-trained surgeon who was the head of the emergency department in Queens hospital, Romford England. He agreed to mentor me, helped me hone my diagnostic skills, and set me up for success as a junior physician (senior house officer) in England.
Next was Dr. Ravakhah, a palliative care physician who doubles as the program director of the internal medicine residency in St. Vincent charity hospital, Cleveland. I first met him in 2011 during my interview. From 2012 through 2015, he made me understand the concept of illness psychology, to see patients as humans first before seeing them as patients. It was then I understood that I was no different from the patient on the bed.
More recently, I have found myself seeking guidance from Dr. Matt Reeves, especially in navigating complex situations and difficult conversations.
What is one thing most people don't know about you?
I think you should ask my wife that question, ha ha! We've known each other for about 20 years, married for 10 of those.
Where is your hometown?
I am from a tiny town called Kokori in Delta State, Nigeria.
What is the last book you read?
"Life after the Diagnosis" by Dr. Steven Pantilat – It's about what patients feel or go through after having a life-altering diagnosis revealed to them.
What is your favorite song in your play list?
"Lord, I need you" by Matt Maher
What is your favorite food?
Jollof rice, a Nigerian delicacy
What is your favorite hobby?
Playing chess
what is your favorite animal?
I don't think I have a favorite, though I find myself flipping the TV to National Geographic often to watch them.
what is your favorite vacation spot and why?
I love St. George, Grenada. It is rejuvenating, or should I say therapeutic, for me. White sand, blue sea, waves lapping at your feet, easy going people. I can go on and on.
Describe something for which you are especially thankful:
Oh, my God! I am thankful for my family – my wife and kids. We are blessed with a son, 6 years old, and a daughter, 4 years old. My life revolves round these people.
Pick a Side
iPhone or Android?
iPhone
Early bird or night owl?
Early bird
Beach bum or mountain hiker?
Beach bum
Dress shoes or tennis shoes?
Tennis shoes
Paperback or e-reader?
Paperback
Coffee or tea?
Tea
Cooking or baking?
Cooking
Sweet or salty?
Sweet
Back to the August 2019 issue of Premier Pulse