Physician Profile: Head and Neck Cancer Physician Loves Cooking, Vacationing in Iceland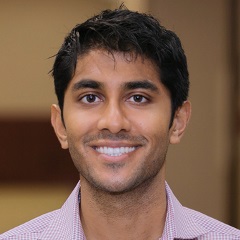 Sameep Kadakia, MD, sees patients at Premier ENT Associates.
What is your clinical specialty?
I specialize in advanced head and neck surgical oncology/facial plastic and microvascular reconstructive surgery.
Where did you go to school?
Undergrad – Drexel University
Med school – Drexel University College of Medicine
Residency – New York Eye and Ear Infirmary of Mount Sinai
Fellowship – Baylor Medical Center in Texas
What brought you to Premier Health?
The Dayton area is a good place to raise family with kind people and is centrally located. I found it to be a great work opportunity with potential to provide a service to the community that has not existed in this area for more than 15 years.
Why did you choose medicine as a career?
I loved the idea of interfacing a knowledge base with a complex skill set in the context of our human life and how intimately it is affected by pathology. Medicine is a large opportunity to make a positive impact in people's lives, whether it be by improving quality of life or potentially prolonging life depending on the pathology treated. I also enjoy that the field of medicine is constantly evolving and presenting new challenges, so we never stop learning.
Who are the people who influenced and/or mentored you?
My mother has been one of the greatest influences in my life, always supporting me and motivating me to do good. My wife has always pushed me to excel beyond the routine and ordinary and has always seen potential in me and pushed me to do not what is easy but what is fulfilling. My fellowship director, Dr. Yadro Ducic, taught me everything I currently practice about surgery – offering a unique perspective on treating patients, teaching me how to be a better human being and better doctor, showing me how to balance life and work while keeping a steady mindset, and teaching me how to handle challenging situations without becoming distraught.
What is one thing most people don't know about you?
I have a deep love for cooking. While I don't get to do it often, I really enjoy making multi-course meals for family and friends. I think it brings about creativity and allows one to explore, and I find great satisfaction in creating an experience out of a satisfying meal. I really enjoy the cooking and garnishing component because food that tastes and looks appealing makes for a unique experience.
Where is your hometown?
I was born in Memphis, Tennessee, but my parents live in Chester Springs, Pa., so currently that is where I consider home.
What, if any, sports team(s) do you cheer for?
Memphis Grizzlies basketball and Tennessee Titan football
What is the last book you read?
"Life on the Line: A Chef's Story of Chasing Greatness, Facing Death, and Redefining the Way We Eat" by Grant Achatz and Nick Kokonas, a biography of Chef Grant Achatz
What is your favorite song in your playlist?
Don't have a favorite; love many kinds of music
What is your favorite food?
I love Indian food, Mexican food, sandwiches, and ice cream.
What is your favorite hobby?
I love music, both listening and singing. I was a trained singer when I was younger. I also love travelling, exercising, spending time with my wife and little girl, and cooking multi-course meals.
Where is your favorite vacation spot, and why?
So far, Iceland. It is an amazing combination of natural landscapes that challenge my understanding of what is possible in nature – a great vacation combo of sightseeing, excursions, and relaxation. It brings out the explorer in me!
Describe something for which you are especially thankful:
I am grateful and honored to be married to my wife, Devi – my support, motivation, and inspiration behind everything I do in life.
Pick a Side
iPhone or Android?
iPhone
Early bird or night owl?
Early bird
Beach bum or mountain hiker?
Hiker
Dress shoes or tennis shoes?
Dress shoes
Paperback or e-reader?
Paperback
Coffee or tea?
Coffee
Cooking or baking?
Cooking
Sweet or salty?
Sweet
Back to the October 2019 issue of Premier Pulse