Physician Profile: Family Physician Loves Lake Life, University of Kentucky Basketball, and Salty Food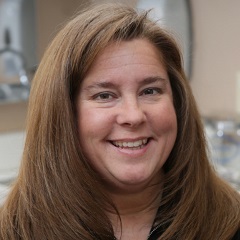 Dori R. Thompson, MD, sees patients at Springboro Family Medicine.
What is your clinical specialty?
Family Practice
Where did you go to school?
University of Kentucky – BS in biology, MD
St. Elizabeth's Family Practice – residency
What brought you to Premier Health?
I worked at Samaritan Homeless Clinic in downtown Dayton straight out of residency and was there for nine years. I returned to Premier Health in 2012 to join Springboro Family Medicine, which was a good fit for me – I live in the community, and love the staff. I was recruited by Donna Banks and Ken Prunier.
Why did you choose medicine as a career?
I was attracted to the impact you can have on peoples' lives and liked the importance and complexity of medicine.
Who are the people who influenced and/or mentored you?
Dr. Anthony Foley and Bari Stasko, RN, had a huge influence on me in residency and early in my career. Both are great examples of knowledge and professionalism, and have great people skills.
What is one thing most people don't know about you?
I salt everything. I keep a salt shaker at my desk and extra salt packets in my purse. My blood pressure is fine.
Where is your hometown?
I was born in Bloomfield Hills, Michigan, and raised in Ashland, Kentucky.
What, if any, sports team(s) do you cheer for?
University of Kentucky Wildcats!! We bleed blue at our house. March Madness is one of my favorite times of the year.
What is the last book you read?
"Killing Lincoln: The Shocking Assassination That Changed America Forever" by Bill O'Reilly
What is your favorite song in your playlist?
Anything by Billy Joel
What is your favorite food?
Prime rib from J. Alexander's
What is your favorite hobby?
Watching UK basketball!
Where is your favorite vacation spot, and why?
My favorite vacation spot is in Lewiston, Michigan. I am originally from Michigan, and my family owns a cottage on East Twin Lake in Lewiston. I have been going there since I was a little girl, and now I bring my children there. It is family fun and relaxation at its best!
Describe something for which you are especially thankful:
I am thankful for so many things. I thank God that He blessed me with health and intelligence. I am thankful for my two beautiful healthy children (even though they are teenagers and driving me crazy right now). I am thankful for my job – I love my coworkers and my practice. I am thankful for my amazing husband. We got married in October 2016, and he fills my life with love and laughter.
Pick a Side
iPhone or Android?
iPhone
Early bird or night owl?
Night owl
Beach bum or mountain hiker?
Beach bum
Dress shoes or tennis shoes?
Cute sandals in summer; stylish boots in winter
Paperback or e-reader?
Paperback
Coffee or tea?
Water, coke or Bud Light
Cooking or baking?
Neither – I do not excel in the kitchen
Sweet or salty?
Salty!!
Back to the July 2018 issue of Premier Pulse