Physician Profile: Dr. Joseph Mauro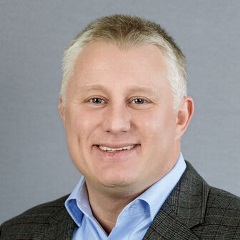 Joseph M. Mauro, MD, medical director, Miami Valley Hospital emergency department
What is your clinical specialty?
Emergency Medicine
Where did you go to school?
I am a graduate of Dayton Carroll High School located in East Dayton/Riverside. I completed my undergraduate education at Miami University in Oxford, Ohio. I attended medical school at University of Toledo College of Medicine. I completed my residency and training in Emergency Medicine at Wright State University.
What brought you to Premier Health?
I am originally from Dayton and I was born at Miami Valley Hospital. I also spent three summers while in college working at Miami Valley Hospital as an OR PCT as a part of the Undergraduate Summer Intern Program. I was very drawn to Miami Valley Emergency Specialist Group while working as a resident. I felt the group was established and I really enjoyed meeting and working with the other providers. Miami Valley always felt like home to me!
Why did you choose medicine as a career?
After the realization that I would not be a professional athlete, I wanted a job that I could be proud doing. I wanted something challenging, respected, and worthwhile. I wanted the opportunity to make my community and world a better place. Medicine checks all of those boxes for me.
Who are the people who influenced and/or mentored you?
I have had many life influences and mentors (most of all my immediate and extended family) for which I owe everything for their guidance, love, and support. I have also had several positive professional influences, including Darin Pangalangan, MD, Mary Chellis, MD, and Norm Schneiderman, MD. However, my biggest professional influence/mentor has been Keith Bricking, MD. Since I started at MVH, he has taken me under his wing and been a steady source of support and education administratively, clinically, and personally. I cannot thank him enough for his time and efforts in my development and for his friendship.
What is one thing most people don't know about you?
I am an assistant coach for my son's football team and head coach for my son's wrestling team (South Dayton Knights/Alter). I do not coach my daughter's ballet/dance classes.
Where is your hometown?
Dayton, OH.
What, if any, sports team(s) do you cheer for?
Cincinnati Bengals and Notre Dame Football. It has been a tough year for my Bengals! I used to be a die-hard fan. Now, I am only die-hard for my kid's teams, but I still love my Bengals and Irish.
What is the last book you read?
"Make Your Bed: Small Things That Can Change Your Life…and Maybe the World" by Admiral William H. McRaven. Quick and easy read with many important life lessons for success and happiness.
What is your favorite song in your playlist?
I really like all kinds of music depending on the mood and situation. I can't really pick a favorite song but prefer 70s and 80s genre. Favorite artists: Led Zeppelin, Prince, The Eagles, Simon and Garfunkel, Jackson Browne, Radiohead, The Beach Boys, Gin Blossoms, Pearl Jam, Fleetwood Mac, Guns N Roses, Elvis, Lionel Ritchie, Kenny Rogers, the Beatles, Lady Gaga, Pink, and Snoop Dogg.
What is your favorite food?
Pine Club Steak House! I've looked far and wide and found a rare few steak houses that may be equal, but none that are better in my opinion.
What is your favorite hobby?
I most enjoy spending time with my wife and family. I enjoy exercising and seeing movies and trying new restaurants. I also enjoy following and coaching amateur wrestling.
What is your favorite animal, and why?
Dogs. I love the camaraderie of a dog and they truly become a member of your family. Our long-time dog of 15 years (The Cuteness—Chihuahua) passed away last year. We now have a new puppy (Enzo—French Bulldog) that has been a great addition to our family.
Where is your favorite vacation spot, and why?
Anyplace with my family is good with me. We love to travel and we value experiences over things. Best family vacation: Hawaii or Turks and Caicos. Favorite place to travel with my wife: New York City or San Francisco.
Describe something (a thing, person, place, experience, etc.) for which you are especially thankful:
My family is everything to me. My wife (Stacey) has been a constant strength in my life and I would be lost without her love and support. My kids (Rocco-12, Luciana-9) are my greatest gift in life.
Pick a side
iPhone or Android?
iPhone—not a techie but seems easier for me to use.
Early bird or night owl?
Night owl historically but moving slightly toward early bird.
Beach bum or mountain hiker?
Beach bum, for sure.
Dress shoes or tennis shoes?Tennis shoes. I am all about comfort.
Paperback or e-reader?
E-Reader. I try not to keep my wife awake when reading late at night.
Coffee or tea?
Coffee
Cooking or baking?
I am pretty horrible at both, but I'm starting to be better on the grill.
Sweet or salty?
Salty
Back to the November 2019 issue of Premier Pulse.