Physician Profile: Champion Skier Now Treats Athletes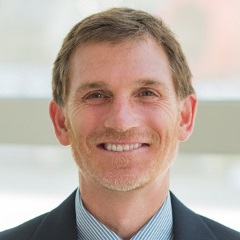 Jon Sulentic, DO, sees patients at the Middletown office of Premier Orthopedics.
What is your specialty?
My specialty is sports medicine. My scope of practice includes most general orthopedic conditions including arthritis care, fracture care, overuse injuries, and sprains and strains.
What brought you to Premier Health?
I was in private practice at Orthopaedics & Sports Medicine Consultants in Middletown for nearly 14 years; however, in recent years, the changes in health care prompted us to join forces with a regional hospital system. We had always had a strong relationship with Atrium Medical Center and therefore, it was only natural to partner with Premier Health, the leading health care system in our area. In 2016, we merged with several other orthopedic practices in the Dayton area to become Premier Orthopedics, offering excellence in full spectrum orthopedic and sports medicine care throughout the Miami Valley.
Why did you choose medicine as a career?
There are several factors that led me to become a physician but impact of my own personal sport injuries played a big role. I had had several sports injuries prior to being a college athlete, as well as afterwards, which radically changed my future goals as an athlete. Ultimately, in my late 20s, it was time to focus on a new career path. I had always had an interest in medicine. But during my many encounters with numerous "team docs" – a few of whom gave me the opportunity to shadow in their practice – my interest grew even stronger. That first-hand experience, coupled with the advice of a few key mentors, led to my decision to pursue medical school at Michigan State University and ultimately choose a residency and fellowship training allowing me to specialize in sports medicine. Although my path was not the most direct route, I feel very blessed and have enjoyed my career as a physician.
Who are the people who influenced and/or mentored you?
I feel very fortunate to have had several influential mentors at different stages of my life. From an academic perspective, however, Dr. Watts, my graduate school advisor, was absolutely the most influential mentor and friend. He was not only an excellent educator but also facilitated his students' academic maturity by creating and offering so many opportunities in research, teaching, and scientific writing that most of his students have gone on to excel in their professional life. For me, Dr. Watts played a massive role in my ultimate decision to become a physician.
How do you describe your bedside manner?
I try to make the time spent with each patient a comfortable, conversational, unrushed encounter so that I can get to know the patient, which helps me create a treatment plan that best suits their current life situation. Obviously, some conditions such as many fractures are very specific diagnoses and the treatment is also very specific. Other conditions such as arthritis have multiple elective treatment strategies and, when appropriate, I like to empower the patient to actively participate in creating the best treatment plan for them.
What is one thing most people don't know about you?

Most friends and associates know I love to compete, especially in soccer and cycling, but most don't know of my love for skiing. Since we have very little snow here in southwest Ohio, the Olympic sport of cross-country ski racing usually evokes a curiously confused expression of "What sport did you say?" or "That's a sport?" so as one might expect, the topic rarely comes up. However, nearly 30 years ago I was passionate about the sport and skied for my undergraduate alma matter, Northern Michigan University. One of the highlights was that we won four consecutive NCSA national championships from 1986-89. Some may know of NMU because of their great record in collegiate hockey, but now you know of the "other" winter sport so check it out during the next Olympic Winter Games.
How do you want to be remembered?
I would like to be remembered as a person who successfully balanced the primary commitment of family, especially to my wife and daughters, while upholding my personal values and beliefs and also maintaining my absolute commitment to caring for my patient as mandated by taking the physician's Hippocratic oath.
What is the last book you read?
My last book was a book of short stories and was gifted to me because I love everything about fly-fishing. The River Home: An Angler's Explorations by Jerry Dennis
What is your favorite song in your playlist?
It's hard to pick as I have many genres in my play list so it's dependent on my mood, but I am a huge hairband fan of the 80s. With that said, "It's a Long Way to the Top (If You Wanna Rock 'N' Roll)" by AC/DC is one of my favorites.
iPhone or Android?
iPhone
Early bird or night owl?
Early bird
Beach bum or mountain hiker?
Mountain hiker
Dress shoes or tennis shoes?
Running shoes and soccer cleats
Back to the September 2017 issue of Premier Pulse