Physician Profile: A Brain Detective Who Enjoys Jumping Out of Planes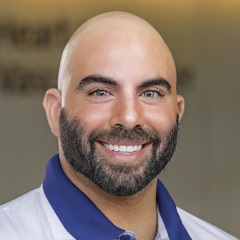 Fadi Tayim, PhD., sees patients at the Clinical Neuroscience Institute
What is your specialty?
Clinical Neuropsychology and Neuroimaging
What brought you to Premier Health?
Well, technically I was brought to Premier Health by an airplane, and then a car. All joking aside, I chose Premier Health because of the opportunity to develop and lead a groundbreaking neuropsychology division within the Clinical Neuroscience Institute. Unlike a general neuropsychology clinic, the CNSI Neuropsychology Division provides highly specialized assessment services through a combination of functional MRI, intra- and extraoperative brain mapping, and by conducting the intracarotid sodium amobarbital procedure ("Wada"), in addition to traditional general neuropsychology measures. Many of these procedures are new to the Dayton region, and I jumped (on a plane) for the opportunity to be the one to develop such a fantastic program for Premier Health.
Why did you choose medicine as a career?
I was drawn to neuroscience, specifically, because I always found it fascinating – and existential – that I use my brain to study other brains. As a clinical neuropsychologist, I am completely spoiled because I have the opportunity to play "brain detective" every day – whether it's in my clinic, at a case conference, or in the procedure room.
Who are the people who influenced and/or mentored you?
Wow – so many mentors, each contributing their own expertise to my training. I'd say my biggest influences are (Drs.) James A. Moses and Harriet Zeiner (VA Palo Alto/Stanford Univ.; neuropsych mentors), Kathleen Poston (Stanford Univ.; neurology mentor), and Laura Flashman and Robert Roth (Dartmouth, neuropsych mentors).
How do you describe your bedside manner?
I have always treated each patient as the foremost authority on themselves. It sounds like an overly simple concept, but when this is genuinely communicated with a patient, it can change their entire perspective on the interaction, how they view the hospital and staff, and sometimes even improves insight into their complaints.
What is one thing most people don't know about you?

I enjoy skydiving! There's nothing like jumping out of a plane at 18,000 feet and seeing the curvature of the earth at the horizon.
How do you want to be remembered?
Having the opportunity to start the neuropsychology division at CNSI has been exciting, challenging, and innovative. I'd want each patient to leave my clinic feeling like they're the most important patient in the world. If I can make that happen, then that's a legacy worth having.
What is the last book you read? (Please include title and author)
Algorithms to Live By: The Computer Science of Human Decisions by Brian Christian and Tom Griffiths
What is your favorite song in your playlist?
I don't have a single favorite, but "Move Your Body" by Sia is definitely my new favorite workout song. I challenge anyone to not want to get up and dance when they hear it!
iPhone or Android?
I'm a child of Silicon Valley (so iPhone, naturally).
Early bird or night owl?
Early bird 100 percent.
Beach bum or mountain hiker?
Both! You can reliably find me beach-side when I visit family in CA, or at Muir Woods hiking!
Dress shoes or tennis shoes?
Tennis shoes all the way! I should get paid by Nike because I own so many pairs of Free Runners & Trainers.
Back to the July 2017 issue of Premier Pulse