Pastoral Care: Another Asset To the Care Team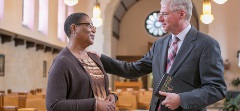 Though physicians have many tools at their disposal, perhaps one of their most powerful resources is also one of the least utilized. At each Premier Health hospital, a diverse group of pastoral care professionals provides around-the-clock services for patients and their families. While many doctors are aware of the pastoral care department, knowing what chaplains do and the services they provide may not be as clearly understood.
"Really, what we provide is emotional and spiritual support for patients and families in four key areas," said Craig Schneider, spiritual care division manager, Good Samaritan Hospital (closed in 2018). "First, we consider the patient's deepest values and beliefs. These are principles that orient the person's life. Secondly, we look at things that provide them with a sense of genuine meaning and purpose. Thirdly, we examine their relationships and how they are connected, both with key people and others, and God or a higher power. Finally, we look at where they find hope and strength. When a person deals with serious illness or other major problems, they always end up wrestling with issues in these four areas."
Chaplains can address practical needs within each of these areas through various means, but their greatest service often boils down to using two fundamental tools.
"First, we focus on being quietly present with people without a hurried agenda," said Schneider. "We can spend time as needed, depending on what's going on in their lives. We also try to actively listen when they just want to share and be open, and we strive to be accepting of their feelings without judgment."
Since chaplains often have the opportunity to gain a deeper understanding of patients and their families, they often have unique insights into relational complexities that can have a powerful impact upon the ease or difficulty of their care. In addition, they can sometimes help communicate with patients and their families on behalf of their physicians and caregivers.
"I see us as a useful bridge to help the patient and family understand where the physician is coming from and help the physician to understand where the patient and family is," said Lisa Baker, supervisor of pastoral care, Upper Valley Medical Center. "For example, if there are unhealthy family dynamics, or people are arguing over what the patient's care ought to be – all the things that doctors may not have time to sort out is where we can be a tool in their tool belt."
Schneider and Baker suggest a number of ways for physicians to collaborate with chaplains:
Get acquainted - Physicians are encouraged to introduce themselves and meet with chaplains where they are working. Specific chaplains are assigned to different departments such as cardiac or palliative care, and can offer unique insights that can aid in patient care.
Check the medical record - Be sure to check the chaplain's notes when reading a patient's medical record for information about a patient's state of mind or unique family dynamics.
Ask and receive - Physicians should feel free to contact a chaplain any time they observe a need for spiritual or emotional support among the patients and families they serve.
Though a chaplain's main focus is upon patients and families, their relationship with doctors can be vitally important and can be utilized more extensively as they become better acquainted.
"I would love for physicians to know we are here for them, too, no matter their faith or background," said Baker. "We seek to meet needs across all cultures, and sometimes a little encouragement can go a long way."
Back to the July 2017 issue of Premier Pulse