Mom's Studies Inspired Middle School Interest In Medicine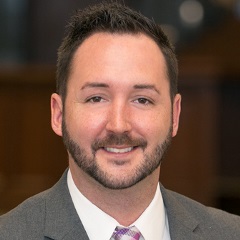 Matthew Bauer, DO, specializes in infectious disease at Atrium Medical Center.
What brought you to Premier Health?
I did my residency in internal medicine associated with Premier Health and enjoyed the experience. I am happy to be reconnecting with the same hospital system.
Why did you choose medicine as a career?
Honestly, internal medicine gave me the most career options since I was not sure which specialty I wanted to pursue.
Who are the people who influenced and/or mentored you?
I have so many influential persons in my life who have directed me to medicine. I want to especially thank my mother who worked so hard when I was in middle school at getting her LPN. Quizzing and helping her for upcoming exams gave me a particular interest in medicine.
How do you describe your bedside manner?
I hope my patients and colleagues find me comforting, empathetic, and informative.
What is one thing most people don't know about you?
I'm from England and have lived in seven U.S. states.
How do you want to be remembered?
As a friend and colleague.
What is the last book you read?
Hillbilly Elegy by J.D. Vance
What is your favorite song in your playlist?
I like new and old school. My old school fave is Billy Joel - We didn't start the fire.
iPhone or Android?
iPhone!
Early bird or night owl?
Night owl
Beach bum or mountain hiker?
Beach bum!!!
Dress shoes or tennis shoes?
Dress shoes - work. Flip flops -the rest!
Back to the December 2017 issue of Premier Pulse