Longtime Premier Health Physician Values International Upbringing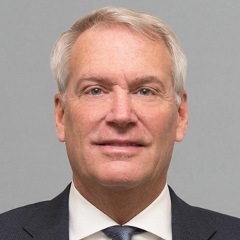 George T. Broderick Jr., MD, specializes in interventional cardiology at Good Samaritan Hospital (closed in 2018).
What brought you to Premier Health?
Working at Good Samaritan Hospital since 1993
Why did you choose medicine as a career?
The combination of science and art
Where did you go to school?
BS – University of Notre Dame; MD – Wright State University School of Medicine; residency – Brigham and Women's Hospital, Harvard Medical School; fellowship – University of Chicago
Who are the people who influenced and/or mentored you?
My parents; an English teacher in high school; and my co-residents in medicine in Boston
What is one thing most people don't know about you?
I lived in Rome, Italy, and Stuttgart, Germany, in high school.
Where is your hometown?
No hometown, Air Force brat
What, if any, sports team(s) do you cheer for?
The Chicago Bears
What is the last book you read?
"The Republic for Which It Stands: The United States During Reconstruction and the Gilded Age, 1865-1896"
What is your favorite song in your playlist?
Mozart's "Requiem"
What is your favorite food?
Steak
What is your favorite hobby?
Reading
Where is your favorite vacation spot?
Chicago; it's on a lake
Describe something for which you are especially thankful:
My childhood with my family and parents growing up around the world
Pick a Side
iPhone or Android?
Android
Early bird or night owl?
Night owl
Beach bum or mountain hiker?
Beach bum
Dress shoes or tennis shoes?
Dress shoes
Paperback or e-reader?
Hardcover
Coffee or tea?
Coffee
Cooking or baking?
Order out
Sweet or salty?
Salty
Back to the April 2018 issue of Premier Pulse