Let's Get Moving – Premier Health!

By Andrew B. Maigur, MD, system director, Premier Physician Advisor Program, Premier Health
The average hospitalized patient spends 17 to 22 hours in bed. This immobility leads to multiple complications including muscle loss, respiratory complications like atelectasis or pneumonia, hemodynamic changes, pressure injuries, digestive issues like constipation, urinary retention, insomnia, depression, delirium, and joint contractures, to name a few.
Fortunately, the negative effects of immobility can be minimized through mobility programs. I am excited to inform you that Premier Health has partnered with Johns Hopkins to adopt the Johns Hopkins activity and mobility promotion (JH–AMP) initiative. This evidence-based program has been built on a structured quality improvement process that helps to create a culture of activity and mobility that can positively affect our patients by reducing their length of stay, decreasing readmissions, and improving patient outcomes such as morbidity, appropriate post-acute disposition, and patient satisfaction scores.
On October 3, 2023, nursing started scoring mobility for each shift on all patients and documenting within their flowsheets. Physicians and APPs can review the scores on the summary tab. Exclusions include emergency departments, behavioral health, perioperative, inpatient rehab, and maternal-fetal units. The colored JH–AMP tool noted below will be posted within patient rooms to help facilitate mobility discussions. The grey table indicates the correlation between the activity measures for post-acute care (AM-PAC) scores and the Johns Hopkins highest level of mobility (JH–HLM) scores, ensuring that our patients are matched with the appropriate post-acute disposition.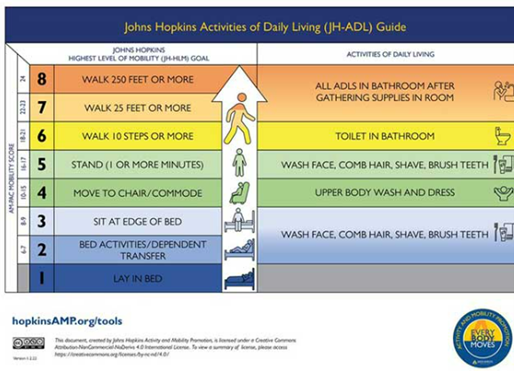 We request your partnership in this initiative for physicians, APP's, and care teams. Recommend using the JH–AMP tool to promote mobility in discussions with patients and caregivers. Consider including the patient's current highest level of mobility score and the daily goal in multi-disciplinary bedside rounding and progress notes while using the communication board as a visual aid. Examples of ways you can help include:
Assessing and mitigating barriers to mobility such as pain, patient refusal, delirium, etc.
Ask nursing and the patient if they were able to achieve the mobility goal for today and if not, why?
Reinforcing mobility goals with the patient, e.g., "I would like to see you out of bed to chair for your meals." To a patient with JH–AMP score of three, this means the patient would have a daily goal of four.
Incorporating the patient's highest level of mobility in your daily notes and daily evaluation of the patient. Is it the same as prior to hospitalization? If not, why? Is it the same as yesterday? If not, why?
Let's get moving, Premier Health. Together, we inspire better health for our patients and communities.
Back to the October 2023 issue of Premier Pulse