Early Collaboration with Pain Specialists Can Lead to Healthier Outcomes
Understanding how to properly diagnose and treat patients coping with chronic or acute pain has always been one of a physician's greatest challenges, but it has become more complex as the nation's opioid epidemic continues to expand.
The specialists at the Miami Valley Hospital Pain Center and the Advanced Pain Treatment and Evaluation Center at Atrium Medical Center serve as valuable resources for primary care physicians as they seek to provide the best course of treatment for their patients.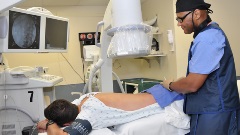 "We can best serve primary physicians, not by taking over a patient's care, but by acting in a supporting role and making treatment recommendations based upon current guidelines," said Janet Hunt, BSN, RN, program manager, Miami Valley Hospital Pain Center. "We are able to treat patients ideally through injections or even assist with medical management if needed, but providing documented recommendations for primary care doctors gives them the protection they need through the medical board to ensure they've done their due diligence."
Continued collaboration between primary care physicians and pain specialists has become increasingly important, not just because it leads to healthier outcomes, but because the number of patients needing treatment is so vast.
"Essentially, there's one pain physician for every 10,000 patients suffering with pain, so it's simply not possible for the specialist to take over a patient's medical management," said Townsend Smith, III, MD, medical director of the Miami Valley Hospital Pain Center. "If there are interventions to consider, we as pain specialists can deliver them whether it's through injections, implantable devices, or anything else that would likely resolve the underlying sources or symptoms."
When a patient is referred to one of Premier Health's pain centers at an earlier stage, it also allows the specialists to design a course of treatment that may not only shorten their recovery times, but also potentially utilize treatment methods that may help them minimize or even avoid the use of medications altogether.
"At the pain clinic, we have minimally invasive procedures to treat back pain, for example, and utilize spinal implants to decrease it," said Howard A. Seitzman, MD, medical director of the Advanced Pain Treatment and Evaluation Center at Atrium Medical Center. "This makes it more possible for patients to do the activities they want and need, and reduces the amount of medications they have to take. When you look at the studies, they have shown that if you actually get to people within the first two years of their problem it works so much better and prevents medication problems."
Though the use of narcotics may be ideally avoided, they can sometimes play a necessary role in the course of a patient's treatment. Pain specialists can work closely with primary care physicians and their patients to help administer the right treatment at the right time.
"Ultimately our goal is to be more interventional and avoid the use of medication, but that's not always possible," said Dr. Seitzman. "These days, pain medicine may be considered bad, but in reality, the pendulum ought to swing a little more toward the middle. It's neither good nor bad; it just has to be used properly."
Charting the right course for a pain patient's short- and long-term health can certainly come with its challenges, but consulting with a specialist may open doors of opportunity that lead to healthier outcomes.
"We're committed to providing doctors and patients with another set of eyes, so they can know they're moving forward in the best way, whether it's chronic medication management, or through some other method," said Hunt.
Back to the November 2017 issue of Premier Pulse