Clinical Neuroscience Institute Puts Focus on Telemedicine, Neurosurgical Oncology, Epilepsy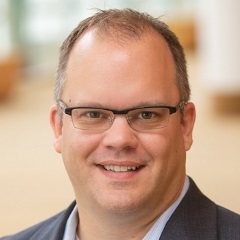 By Jason Merritt, vice president of Premier Physician Network specialty services – neurosciences
Premier Health's Clinical Neuroscience Institute (CNSI) led by Bryan Ludwig, MD, continues to advocate for the highest level of neurological care for patients in Southwest Ohio by improving access, quality, and service. Three of the initiatives we are currently focusing on are telemedicine, neurosurgical oncology, and epilepsy.
In partnership with Premier Health's telemedicine program, the Neurosciences Institute has expanded telehealth service offerings to increase access to our highly trained specialists and treat patients in their home communities. NEUROne is a teleneurology program that increases access to inpatient neurology care provided by a remote CNSI neurologist in conjunction with a bedside advanced practice provider for patients who require non-emergent consultations for general neurological conditions. This program will be launched at internal Premier Health facilities in the fourth quarter of 2018, with a goal to expand to outside regional hospitals in 2019. We are also welcoming Joint Township District Memorial Hospital in St. Marys, Ohio to our renowned Premier Health TeleStroke Network beginning November 1, 2018. For more information regarding our telehealth programs, please reach out to Alex Pohlman, director of telehealth, by email; or Michelle Post, telehealth program manager, by email.
Premier Health's neuro oncology program consists of a multidisciplinary team of MD Anderson Cancer Center-certified physicians. Ania Pollack, MD, neurosurgeon with CNSI, is our surgical lead for this team. Physicians meet weekly to discuss cases to ensure that patients are receiving the best care. Patients are followed from pre- diagnosis through all phases of treatment. There is a designated clinic providing exclusive consultation to the neuro oncology patients. All patients receive individualized treatment plans based on the most up-to-date research and evidence-based care available.
Additionally, CNSI is actively involved in the development of the Comprehensive Epilepsy Center. The goal of the center is to coordinate the complex care that is required to assist epilepsy patients through the treatment pathway from diagnosis to surgery if required. The center, under the direction of Barb Phillips, MD, includes the specialties of neurology, functional neurosurgery, neuropsychology, neuroradiology, and clinic staff. Coordinating the efforts of these teams into one center will improve access and efficiency for our patients. The center also partners with the inpatient nursing team for education, protocol development, and Epilepsy Monitoring Unit algorithms.
Back to the September 2018 issue of Premier Pulse