Behavioral Health Care Makes A Difference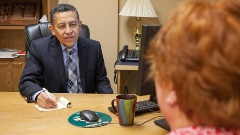 Treatment works. Though few may doubt the truth of such a statement in a primary or specialty care setting, the field of behavioral health does not always inspire the same confidence.
"Our patients are your neighbors, your friends, your patients," said Sue McGatha,
president and CEO, Samaritan Behavioral Health, Inc. "The perception that people can't get better isn't true, because we see people get better every day from their mental health and substance abuse problems. If you've got the right people and the right tools and the right practices, people get better and learn to manage what is sometimes a lifelong illness, no different than an illness such as diabetes."
As physicians care for the whole person, the need to access a range of outpatient and inpatient behavioral health services is more important than ever. Premier Health is a nationally recognized resource for physicians needing to refer patients for a variety of mental health and substance abuse concerns. Behavioral health resources exist at Miami Valley Hospital, Atrium Medical Center, Upper Valley Medical Center, Good Samaritan Hospital (closed in 2018) and Samaritan Behavioral Health.
Samaritan Behavioral Health, Inc. (SBHI) has been providing outpatient mental health and substance abuse care for children and adults in Montgomery, Miami and Preble Counties for nearly 50 years. Treatment services include individual, group, and family counseling, as well as intensive outpatient groups, depending upon the patient's age, as well as medication evaluation and management. SBHI also provides community psychiatric supportive treatment, which is community-based case management designed to keep people with significant mental health issues functioning within the community. SBHI's behavioral health services have played an increasingly crucial role as the opioid epidemic has continued to grow throughout the region by offering Medication Assisted Treatment (MAT) which uses medications to help people safely detox from opioids and prevent relapse. Ambulatory withdrawal management is also available seven days a week for opioid-addicted individuals.
"We have a 24/7 program called Opioid Intervention Services where people can walk into our facility and get help for their opiate issue," said McGatha. "We can also go to residences or anywhere in Montgomery County where we're needed to respond to a mental health or substance abuse crisis."
Miami Valley Hospital also offers intensive outpatient programs known as Turning Point and Psychiatric Outpatient, which are designed to treat individuals with mental health and/or alcohol and drug abuse problems.
Inpatient hospital care for mental health and substance abuse problems is also available at Premier Health if needed.
"Our psychiatrists are prepared to work closely with referring physicians during an inpatient medical stay, when it comes to something like complicated withdrawal management, for example," said Christina Waite, MD, medical director, Miami Valley Hospital.
Premier Health has also taken steps to combat the opioid crisis through Miami Valley Hospital's Promise to Hope program which provides crucial care for addicted mothers-to-be and their unborn children. Physicians may refer patients directly to this unique, outpatient program, which provides women with drug and alcohol treatment during and after their pregnancy. Patients receive case management through a nurse navigator specially trained in chemical dependency, and they can also participate in routine group meeting sessions.
Premier Health's commitment to its patients extends beyond the provision of chemical dependency services to include treatment for a variety of mental health concerns. Outpatient behavioral health programs are a valuable resource for patients in need of counseling, psychiatric assessment and medication management.
No matter the need, Premier Health's behavioral health services provide patients and their families with a vital source of hope, and offer referring physicians a key resource for treating the holistic health needs of their patients.
"Treatment does work," said McGatha. "People recover and go to work and become productive citizens, but they often need behavioral health treatment to help them achieve stability and wellness."
Back to the August 2017 issue of Premier Pulse