Versant Conference Helps Identify Personal Strengths
By Kim Barton, MSN, RN, BSB/A
Maria Cosler, MSN, RN
Cindy Burke, BSN, RN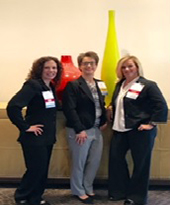 On November 9, 2016, we had the privilege to attend and participate in Versant's National Conference in Las Vegas, Nev. During the intensive two-day conference, we met and collaborated with hospital networks from many parts of the United States. We had the opportunity to discuss with colleagues the overall operation of a nursing residency program, as well as recruitment, retention and engagement of residents. The conference also allowed us to learn from national expert speakers demonstrating the value contribution of a nursing residency program for new graduate nurses. Furthermore, our learning emphasized the importance of those supportive positions (leaders, preceptors, mentors, debriefers, subject matter experts) from the resident's perspective. Finally, we enhanced our knowledge regarding the implementation process of a transition residency, integrating relationship-based care, and hiring new graduate nurses into non-traditional departments.
We also had the opportunity to share our knowledge with others on our capstone program, the Preceptor Role Development Program rollout, and how the education curriculum for the Versant residents has evolved into an engaging and interactive learning environment at Premier Health.
We were challenged to answer the following questions regarding our own contribution into the residency program. To that end, we wish to challenge all our nursing colleagues. Can you identify your personal strengths? Having an understanding of these individualized qualities provides opportunities for leverage and self-growth. What do you want to improve in nursing through your efforts? What is your desired legacy in nursing? When thinking about your legacy, remember this: "your leadership is not shaped and your legacy is not defined at the end of the road but rather by the moments shared, the decisions made, the actions taken, and even the mistakes overcome throughout the many phases of your career" (Llopis, 2014).
References:
Llopis, G. (2014, February 20). 5 Ways a Legacy-Driven Mindset Will Define Your Leadership. Retrieved November 21, 2016, from http://www.forbes.com/sites/glennllopis/2014/02/20/5-ways-a-legacy-driven-mindset-will-define-your-leadership/2/#795c50d491d1
<<Back to Premier Nursing News-December 2016
Source: Premier Health Nursing