The DAISY Award Recognition Program
By Lori Nichols, RN, MSN, CCRN, ACNS-BC, CTTS, clinical nurse specialist, program manager, Senior Emergency Center, Atrium Medical Center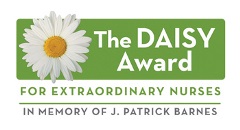 J. Patrick Barnes was 33 years old, with a six-week-old daughter, when he developed symptoms of idiopathic thrombocytopenic purpura (ITP) and succumbed to complications of the condition. ITP is a disorder that can lead to easy or excessive bruising and bleeding, which results from unusually low levels of platelets. The nursing care that he received profoundly touched his family: "…the nurse's clinical skill, fast thinking, nursing excellence, kindness and compassion informed and educated us to ease our minds and help us through the darkest hours of our lives with soft voices of hope, and strong loving hugs…" The Barnes family wanted to say "thank you" for the gifts nurses give their patients and families every day.
Using an acronym for (D)iseases (A)ttacking the (I)mmune (SY)stem, the DAISY Foundation was formed.
The DAISY Award for Extraordinary Nurses was developed with the goal to ensure that nurses know how deserving they are of society's profound respect for the education, training, brainpower, and skill they put into their work, as well as the caring way with which they deliver their care. Learn more by visiting the DAISY Foundation.
The DAISY Award is celebrated in more than 2,700 health care facilities in all 50 states, including Premier Health, and in an additional 16 countries.
Nurses can be nominated by patients, family members and co-workers by using a DAISY brochure or an online nomination form.
<<Back to Premier Nursing News-October 2017
Source: Premier Health Nursing