Recent Upper Valley Medical Center DAISY Award Recipients: November 2019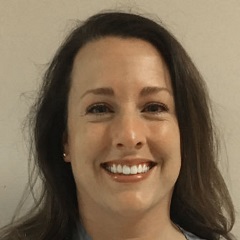 Sara Finkes, RN
Sara is a nurse that is loved by patients, adored by her co-workers and appreciated by our surgeons. A coworker recently took a poll of our staff, including surgeons, asking what they liked the best about Sara. Without a doubt, DAISY sums up their opinions (Dedicated, Awesome, Intelligent, Sincere, Youthful). Here is a sampling of some comments that were made:
Sara is knowledgeable and does a great job teaching.
Awesome nurse.
Precepts new nurses; excellent mentor and teacher.
Very caring. Can talk to any patient and soothe them before surgery.
Great teacher and is encouraging.
Always puts the patient first in the care she provides.
Great to all our patients.
Always willing and ready to jump in and help with all situations. Great team player.
She is a hard worker and has a "can do" attitude. Self-motivated.
I enjoy working with her; she always makes me laugh.
Great sense of humor. Very funny—kind heart.
Sara is so sweet and kind to her patients. She is one of the best circulating nurses we have. She anticipates what is needed in the room and is very efficient. Awesome OR nurse.
Sara Finkes has a cheerful, infectious attitude that helps turn a challenging day into a good day. She is always willing to help, loves to learn new things, and helps teach others. She is a wonderful asset to our department.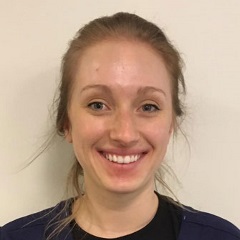 Kaila Pleiman, RN
This nurse is one I would love to have on my staff to take care of my residents. She is very compassionate about her patients and their families. Kaila was exceptional at seeing all my needs were met.
I really enjoyed Kaila's company. She went above and beyond to get me food when it was late at night. Kaila also made sure she flushed my IV when I needed it. She came in my room and asked if she could get me anything.
Kaila was very professional at her job and very knowledgeable when I needed to know what was going on and what the doctor was doing.
I really enjoyed the company of Kaila when we had the chance to talk. Just knowing she was my nurse made my stay at the hospital less frightening and less stressful.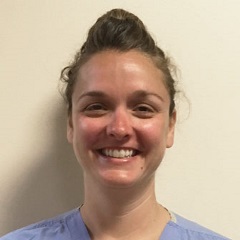 Lucinda Sarver, BSN, RN, C-EFM
Lucinda was my nurse during my delivery of our second child, which resulted in an emergency C-section. Through all the chaos, Lucinda was by me side. My husband was not in the OR, and Lucinda became my support person. I remember crying and being extremely scared when Lucinda grabbed my hand and rubbed it, reassuring me things would be OK. She was my rock through the operation, and I feel blessed to have had her tend to me. She visited us the next day and hugged me when we left. I am forever grateful for her and believe she deserves the utmost recognition for everything she did. Lucinda is the model by which all nurses should live by. She is an incredible human and professional.
Back to the November 2019 issue of the Nursing Newsletter