Recent Miami Valley Hospital DAISY Award Winners - March 2018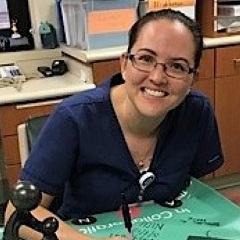 Sophia Briley, RN
Picc Team/ATA
No one was able to place an IV in my patient that evening. If we had to wait until morning when more resources were available, my patient would have missed four doses of antibiotics. I paged Sophia at 22:45, which is fifteen minutes before the end of her shift. I asked her if she could possibly help me with a very difficult IV start. She said she was more than happy to come and take a look. Not only did she take a look, but she ended up staying and placing a midline IV.
She was so kind to me and my patient. She took her time and never seemed to be in a hurry or make the patient feel rushed. Her willingness to help us allowed my patient to get her antibiotics through the night. Missing four doses of antibiotics would have a negative impact for any patient. Sophia clearly puts our patients first!
Submitted by Leslie Guy, nurse on 6SW.
Sophia Briley is proof that good things come in small packages. As an expert in IV therapy, she has big skills in placing Picc lines, midlines and IVs that are so vital to the therapy of our very ill patients. She is skilled, knowledgeable, and so patient and kind. Her calm, reassuring approach helps ease anxiety in patients who have had negative experiences in the past. She is such an important part of every unit's team providing great care. Miami Valley Hospital is lucky to have the resources of all of our wonderful IV therapists. If ever you need an IV, you would be happy to see one of them walk into your room.
To paraphrase Mother Theresa: do small things with great love. Starting an IV might seem like a small thing. Making the procedure positive and comfortable is what Sophia is able to do. She is an outstanding nurse and a DAISY Award winner for sure!
Submitted by a coworker.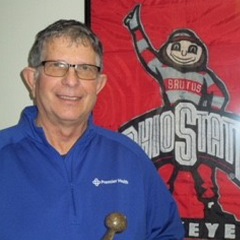 Lloyd Fisher
Pain Center
I have been a patient of Dr. Townsend Smith for approximately twenty years. During this time, Lloyd Fisher has always taken the time to provide the family centered care that a patient needs. He respects his patients' needs. I have watched him with other patients. He always takes the time to know patients and their families on a personal level. He works with my mother and families of other patients, including them in the plan of care. He knows our issues and works to get us the care we need. He knows I work multiple jobs and am not always feeling my best. He respects my mother as my advocate and understands that part of helping a patient is to involve their family. Lloyd is also a patient advocate. He never hesitates to discuss my case with Dr. Smith and Randy, APN. They provide what I need to continue a quality life working full time.
Lloyd always follows up within hours of me leaving a question. He will pursue the care needed whether it is to schedule more testing, refer to a specialist, call in medications, or find appointments on short notice to allow me some comfort. I remember my first epidural. I had a lot of apprehension, and Lloyd allowed me to hold his hand during the first few epidurals. He is very supportive and reassuring.
I have recently had worsening back issues, and Lloyd had my treatment plan set up with Dr. Smith within 24 hours. Lloyd's attention to my issues has allowed me better mobility and hope. The Pain Center has one of the best patient care staffs within Miami Valley Hospital. The RNs personally wheel their patients out to meet their rides, show no judgment for chronic pain, and make a difference knowing that the little things mean so much when you are in pain.
Thank you, Lloyd!
Submitted by a patient.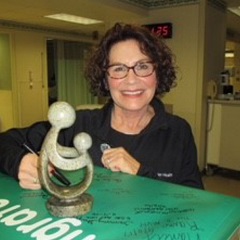 Beth Houchens, RN
Pre-Op
Beth Houchens is truly one of our finest nurses and very deserving of the DAISY Award for outstanding nurses. All the criteria on the nomination form can be checked for her. She consistently demonstrates the description of a DAISY nurse.
Beth is amazing to watch in action. She is a dynamo in motion as she organizes the pre-op area. She can efficiently care for several pre-op patients at once. She meticulously scans over each EPIC record to ensure everything is in place and safe for her patient to have their surgical procedure. One of her responsibilities is to be sure the surgical consent is properly documented and signed. This has been a huge issue and concern of hers, as she has needed to correct many mistakes. Because of her excellence in pre-op care and her passion to teach, she is now part of the looping process with the Versant nursing residents. This has had a big impact on our new nurses, showing them the importance of pre-op preparation and completing the surgical consents correctly. Beth is aware of all the risks and potential problems for her patients, and she is diligent in making sure they are ready for surgery. She strives to give excellent care to each one of her patients and has maintained that standard for her 38 years of nursing at Miami Valley Hospital.
Beth is well known, trusted, and respected by all staff in surgical services. Her coworkers appreciate and value her expertise. Her cheerful, positive approach and beautiful smile define her. Her quick wit can make the day pleasant, adding quality to work life in an often intense environment.
Beth's passion and persistence to deliver exceptional nursing care while always ensuring safe, positive outcomes for her patients makes her a true DAISY nurse!
Submitted by Liz Kempfer, RN.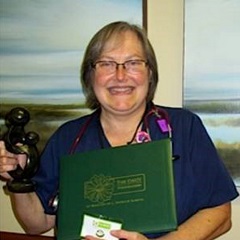 Kathy Johnson
Medical Oncology
Kathy is a very caring nurse. She shows compassion and is attentive to the needs of her patients. She explains the tasks she is performing and puts the patient
and family at ease. She displays such professionalism while making the patient comfortable. We had confidence in her knowledge, experience, and guidance. Her personal skills are great! She is expedient and gets the job done right.
Kathy is quite an impressive nurse. She is truly a humanitarian, and the perfect example of what a nurse should be. Kathy is definitely an asset to this organization. Miami Valley Hospital is a better place thanks to Kathy!
Submitted by family of a patient.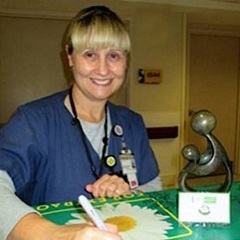 Barb Sowders, RN
6 South Surgical
My husband was here for an abdominal surgical procedure. A distended belly and hiccups became the overall focus and a nagging, unsolvable problem. Hiccups on top of an abdominal incision were miserable for him. As the incisional pain was well managed, the hiccups were causing more pain, exhaustion, and frustration.
All the boxes on the DAISY Award brochure can be checked for Barb! She researched hiccups and found that a muscle relaxant might work. She asked the physician if my husband could try one, and IT WORKED! After four and a half days of hiccups with no relief, quality rest or anyone else taking the time to research the issue, Barb went above and beyond to solve the problem. She cared about his suffering and found a viable solution. She also displayed compassion by telling him she was praying for him. This was meaningful and very much appreciated by us. We thank Barb for all she did for us!
Submitted by family of a patient.
Sara Wolfe, RN
Labor and Delivery
To the greatest nurse,
I wish I had more time to write this because of everything you have done for me. There is not enough time in the world. I first came in and felt a little weird, but I got to know the most amazing person I have ever met. You gave me hope when I lost motivation and needed it most. You were a friend when others turned their backs on me. I cannot say enough about everything you have done for me and what it has meant to me. You even named my beautiful daughter. Forever you will remain in our hearts.
Thanks to you, I will never give up or lose hope. You gave me strength when I needed it most. I am crying like a baby writing this. I know everything will be okay. Just like you said, don't give up, the worst is over. You changed my outlook on life and how I think about people. There are still amazing people out there who want to see me succeed.
Thanks for holding my hand and picking me up when I needed it most. I will succeed, and when I do, it will be because of you.
Thank you, Sara!
Submitted by a patient.
<<Back to Premier Nursing News - March 2018
Source: Premier Health Nursing