Recent Miami Valley Hospital DAISY Award Recipients: November 2019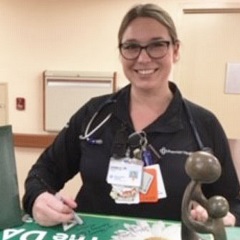 Amanda Carlson, Gyn/Oncology Unit
I had a reaction to chemotherapy and had to have my next chemo treatments in the hospital. My vision of what this would be like was not good, kind of like being a prisoner sent to solitary confinement. Well, I was certainly wrong, and largely due to nurse Amanda Carlson being so wonderful. She instantly put me at ease. She had all the medical stuff covered. She listened to what I was saying, and from one treatment to the next, she remembered, followed through, and made things better each time. Amanda was right there when I needed her, as well as gave me quiet time to rest when needed. She helped me pass the time, and the time went quickly. I really enjoyed the staff on the unit and appreciate all they did for me; especially Amanda, Pam McFarland, and Andra Denise. Everyone could not have done one thing better. I am so grateful to them all, especially Amanda, who was in charge of me and became my pal. Thank you, Amanda!
Submitted by: A grateful patient
Kelly Green, Observation Unit – ME6
Mrs. Green is an extraordinary nurse. She always explained what was going on with me and provided me with updates so I did not feel overlooked and understood my treatment plan. She would look at me and ask me how I felt instead of looking at the computer. I always looked forward to her popping in because she would talk to me and would really listen to me and not just reply "uh huh" or "that's nice." She made sure I did not have to wait for my medications or fluids because they were always ready and waiting when due. She explained why my vitals were being checked frequently and gave me helpful hints and tips I could use to know if my blood pressure was getting high again. She never left any trash behind and even carted off my meal trays for me. I would return to Miami Valley Hospital just because of Mrs. Green. I have never taken a survey or written a note like this before. Mrs. Green is a wonderful person. She brings so much care and compassion to this place.
Submitted by: A grateful patient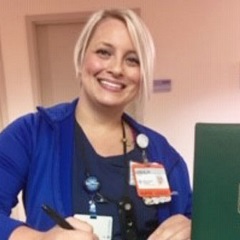 Laura Masteller, Trauma Unit
Being in the hospital for 71 days, not every day was a good day unless Laura was my nurse. On the good days, Laura would push me to excel in my therapy. On my worse days, she would comfort me. Laura CARED about my story, my life, and my future once I left Miami Valley Hospital. She discussed my situation in a unit care conference to be sure the next step in my recovery was the right one. She advocated on issues I felt strongly about when I was not able to do so. Laura made sure my family was included and built a strong bond with my son. He always hoped she was my nurse when he came to visit. As blessed as I am to be alive, I was blessed to have Laura walking with me during my recovery. We love you, Laura! Thanks for being the best!
Submitted by: A grateful patient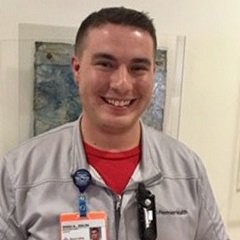 Derek Mayberry, Heart and Vascular SE9
Derek has done an excellent job this week. He has taken very good care of me. He has been compassionate, encouraging, and optimistic and went above and beyond the call of duty to make me comfortable. Derek gave me excellent attention and care. He made sure to treat me as a person, not as a patient locked up in the hospital. It felt more like hanging with a friend rather than a nurse. He checked on me frequently and made sure I understood all precautions and instructions. My visitors were impressed with him as well. Derek is a blessing. Prior to this stay, I would not have been comfortable with a male nurse. He went far beyond doing his job. It takes a special person to take care of the medical issues and be so excellent with personal interaction. He is very professional, caring, and detail-oriented. Derek and the patient care technicians (PCTs) on this unit have been wonderful. It is a pleasure to trust the hospital staff. This has been our best hospital stay ever!
Submitted by: A grateful patient and family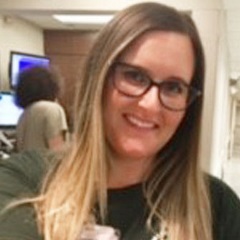 Julie Samson, Miami Valley Hospital ER
I came to the ER with the most excruciating pain. It made thinking and talking difficult. Julie was so caring and took as much time as needed to conduct her assessment. She acknowledged the pain and never rushed me for answers or responses. She was incredibly attentive to my needs and always informed me about what she planned to do before she did it. Even when there was nothing to do but wait for results, Julie checked on me at least every 15 minutes. I could tell she took me seriously and was empathetic to my pain. It is evident this is more than just a job for Julie. She has a passion and drive for what she does. Her compassion is contagious. Nursing seems to come naturally to her, and I felt very comfortable in her care. She made me feel like I was her only patient. She never seemed rushed; and if she was, she never showed it. I felt overwhelmed, and Julie took the time to thoroughly explain medical information that could apply to my situation. There really isn't enough space to praise Julie for how wonderful she was. Thanks so much to Julie for her hard work and compassion!
Submitted by: A grateful patient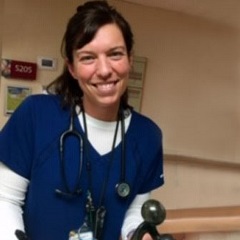 Bobbi Whitt, Renal Unit NW5
Bobbi Whitt has been on top of everything that my dad needed. She is quick about taking care of whatever she sees he needs and takes the time when he wants to talk to her. Bobbi has been one of the most attentive nurses we have ever had. We really appreciate her for her compassion, attention to detail, skills, communication, making a difference, and exceptional nursing care!
Submitted by: A grateful family member
Back to the November 2019 issue of the Nursing Newsletter