Recent Miami Valley Hospital DAISY Award Recipients: August 2019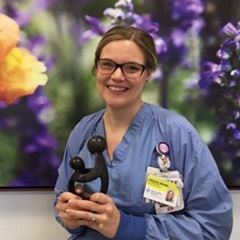 Kirstin Beyland, Miami Valley Hospital South Women's Unit
I have had the pleasure of working with Kirstin Beyland for several months, and it has become evident that she is a very special nurse. She comes to work with a great attitude. Her demeanor exudes strength and confidence. I have noticed how adaptable she is during the shift. She is always willing to change assignments and jump in when her specialty is needed during a delivery. Many times, she has made sacrifices for the greater good of the unit and our patients. She is the epitome of a team player.
Here is an example: Kirstin is a special care nursery registered nurse (RN), and part of her responsibility is to attend all of our deliveries. One day, she already had four other patients when I called her for help with an urgent cesarean section. She was able to care for her other four patients at the same time we needed her in the delivery room to support us. She did it all and took excellent care of each patient. She came to help with a smile on her face, and with strength and confidence. We are very lucky to have Kirstin part of our Miami Valley Hospital South maternity unit! Thank you, Kirstin!
Submitted by: A grateful coworker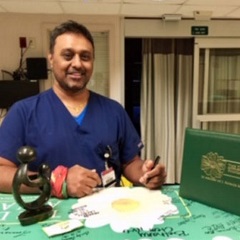 Nikesh Jani, SRO Float Pool
Nikesh Jani was the most perfect nurse I have ever seen in my life. He loves his job and his patients. He was running from patient to patient, always showing he cares and checking on us. A few hours later, I realized I was starting to feel better because he gave me all positive thoughts. I had a strong hope that I was going to do better. I am so glad I had nurse Nikesh that day and am very thankful for everything he did for me. I hope Miami Valley Hospital can hire more nurses like Nikesh.
Submitted by: A grateful patient
Nikesh Jani went above and beyond to help me get my pain under control. The pain had me to the point of losing my mind. He talked to me with the compassion. Miami Valley Hospital needs more nurses like Nikesh.
Submitted by: A grateful patient
Going to the hospital is always scary. Nikesh was kind, gentle and always there when I needed help. He helped me get out of bed and clean up, and answered all my questions – and I had a lot of questions. I just wanted to take a moment to say thank you, Nikesh. I did not feel like just a patient… I felt like I made a friend. All I can say is, Nikesh Jani is a DAISY nurse!
Submitted by: A grateful patient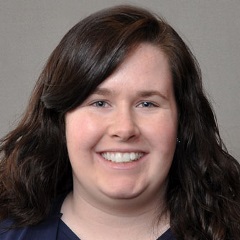 Amanda Landers, Miami Valley Hospital Joint and Spine Care
Amanda is truly an extraordinary nurse. I love coming to work and seeing that she is my nurse for the day. She is always ready to work hard for her patients and provide them with the highest level of care.
One day, I was sitting for one of Amanda's patients whose care was becoming more advanced and critical. Amanda stayed in the room with us, even though I was already there. She pushed back to the doctor regarding the patient's neurological status, advocating for a change in medication and testing. I found out later that all this was happening while Amanda had another patient going critical with a different doctor. You never would have known. She was so attentive to the patient we were with. I was so impressed.
Amanda is working on PEN as well as orthopedic certification, all while being in graduate school. She is always looking to expand her knowledge. I am so impressed with her dedication to her craft. She has also volunteered to be an alternate team leader and host our unit Christmas party, and she participates regularly in our unit council. We are so lucky to have her on our team! Amanda exemplifies all aspects of the DAISY Award for Extraordinary Nurses. She is a fantastic coworker with a beautiful soul. Thank you, Amanda!
Submitted by: A grateful coworker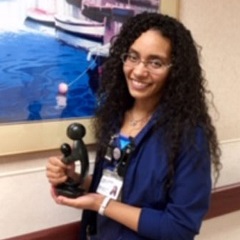 Tiara Smith, Surgical Unit - 6SWB
Tiara Smith defines what a nurse should be. As a colleague and CNP, I know when she has a patient of mine, they are in good hands. She pays close attention to details, keeps us informed, and goes above and beyond every day. Not only is she compassionate, dedicated, and a hard worker, but she also has great assessment skills that allow her to pick up on small changes to prevent the situation from deteriorating. She is not afraid to ask questions always to the benefit of her patient. Thank you, Tiara!
Submitted by: A grateful colleague
Tiara took care of me for three days while I was on her unit. She helped me feel very comfortable when I experienced complications after surgery. She was a great communicator. She explained the situation when I did not understand my treatment. She helped me understand and manage my pain. I appreciate and thank Tiara!
Submitted by: A grateful patient
Back to the August 2019 issue of the Nursing Newsletter