Recent Miami Valley Hospital DAISY Award Recipients - March 2019
Carly Brookshire, ETC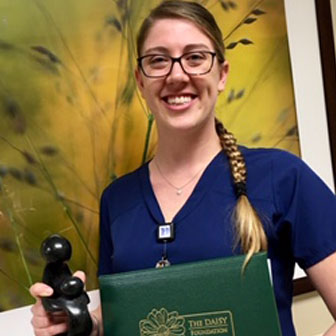 Carly Brookshire has a heart of gold! While recently sitting with a patient for safety, I observed Carly exemplify exceptional compassion toward the family. The patient had dementia, and his spouse was having trouble coping with many issues. His family was visibly upset and frightened when told they could not take the patient home due to his mental health status. Carly took extra time to talk with the family. She was able to develop a sense of trust that resulted in the family agreeing to hospitalization for safety. She consistently went to the room to check on the patient and his family, offering verbal reassurance and support. She made the effort to be certain that he family knew their concerns were heard. She maintained a sense of compassion and professionalism in meeting their expectations through her presence. In addition, Carly managed her other responsibilities as team leader that night. She makes a difference and leads by example. Carly Brookshire is my HERO!
Submitted by: coworker Vicky Paul
Chris Conger, Neuro ICU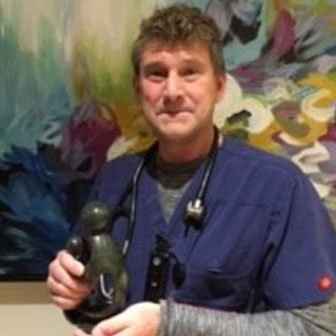 Chris Conger truly loves his patients. I felt when he took care of my husband that he did so with love and wanted to protect his best interests. He takes his job very seriously, and we could not have been luckier to have him as my husband's nurse. Chris hugged and encouraged me when I was a mess. I was scared for my husband's life after a ruptured brain aneurysm. He always went above and beyond to be sure my husband was clean and comfortable. He paid very close attention to every detail he needed to give my husband the best possible care. His kind, compassionate care made us feel like family. Chris, you made me feel safer knowing how much you love your job and your patients. You are amazing!
Submitted by: a grateful wife
Yasmin Fayaz, Trauma
Yasmin was my nurse for a number of days while I was hospitalized. From day one, she made me feel safe, comfortable, and cared about. I was scared because of what happened to me, but she made me feel calm every time she came in to work with me. Yasmin's communication was great! I did not always understand the doctors. Yasmin went above and beyond to explain and get answers for me and my family. She was there for me when I was getting down on myself. She encouraged me to focus on my family and getting better. Yasmin is personable but always professional. Yasmin is a great nurse. The hospital would benefit if everyone could interact and practice as she does. She made all the difference for me and deserves to be recognized for the outstanding, compassionate care she provides. Thank you, Yasmin!
Submitted by a grateful patient
Jamie Ryan, Surgery/OR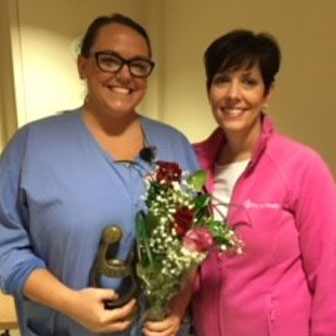 As the first nurse to transfer from the Good Samaritan Hospital OR to the Miami Valley Hospital OR, I was nervous. I was nervous not only about starting at a new facility, but also about how I would be received by the staff as a "Good Sam person." I was paired with Jamie Ryan, and she IMMEDIATELY made me feel comfortable and welcomed. At no point did she (or any of the OR staff) make me feel like an outsider. They fostered an environment of inclusion and alleviated my concerns.
At Good Samaritan Hospital, I had transitioned from the floor to the OR a little more than a year ago. I still have so much to learn about the surgical environment. Jamie has cultivated growth in my knowledge during my short time on staff at Miami Valley Hospital. At the same time, she respected the knowledge that I came with and always created a climate in which I was comfortable sharing my ideas.
I feel that Jamie should be a DAISY Award winner. She emulates how nurses should treat each other, especially during the current transition. She is truly the embodiment of what Premier Health leadership should expect from all their employees who will be working with former Good Samaritan Hospital staff. Jamie's wealth of knowledge and positive attitude have surpassed all expectations for my transfer. I am extremely proud to have chosen Miami Valley Hospital as my new facility.
Submitted by: coworker Nicole Damron
Zach Silvers, Heart and Vascular 6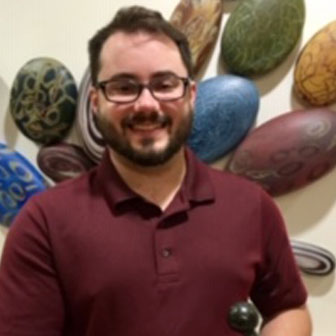 I was fortunate to have Zach Silvers as my nurse for six of my 15 nights at Miami Valley Hospital. All of my nurses were special; however, Zach was the best of the best. Zach was caring, compassionate, and thorough. He took care of me like I was his own father. Being in the hospital for heart bypass surgery for as long as I was is a challenge in itself. Having a nurse like Zach made my stay more palatable, to say the least. I looked forward to each evening I knew Zach would be my nurse. I felt I was his number one concern even though he had other patients. Many times, when I had AFib, Zach knew I was upset and frustrated. He was reassuring and on top of the situation with my cardiologist. I cannot sing the praises of Zach enough. I am hopeful you will give this young man and fine nurse the recognition he deserves. Without question, he is the finest young man I have ever been associated with. Bottom line, Zach cares for his patients like family, and this makes all the difference. Thank you, Zach!"
Submitted by: a very grateful patient
Lisa Thompson, critical care nurse practitioner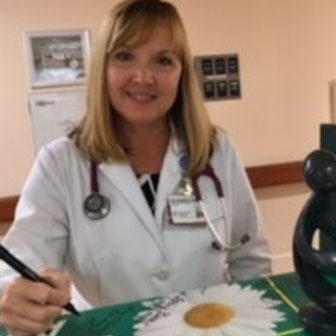 Lisa Thomson is an amazing person, nurse, and team member. She touches the lives of our patients, their families, and her coworkers daily, making a difference and benefiting us all.
The following is just one example of her dedication to her mission of helping our patients:
On the Pulmonary Unit, we have a patient who has been with us since October 2017 due to difficulties with discharge planning. Before transferring to Miami Valley Hospital, he was admitted to another facility for more than a month. This patient walked into the emergency department complaining of shortness of breath, which eventually became so severe that he had to be intubated and then trached. As you can imagine, this patient has been through many ups and downs during his stay. At times, we were not sure what the outcome would be for him. We have watched him progress and heal over the time he has been with us. His wounds had healed, and his tracheostomy was removed.
As you can imagine, he feels like a part of our family. We have celebrated holidays and his birthday on our unit. Lisa Thomson has been a member of his care team. She attends discharge huddle, where she offers suggestions to help improve his care. It is obvious that Lisa cares deeply for this patient. On a Friday night, she stayed late after she had finished seeing all of her other patients just to give him a haircut. After being in the hospital for many months, this was long overdue. She volunteered to do this for him because she knew how much it would mean to him. As a leadership team, we would like to recognize Lisa for her incredible compassion for not only this patient, but all the patients for whom she cares.
Lisa is an asset to Miami Valley Hospital and our Pulmonary Unit. We are thankful that Lisa is on our team!
Submitted by: coworkers Jennifer Long and Jennifer Hynes
<<Back to Premier Nursing News - March 2019