Recent Miami Valley Hospital DAISY Award Recipients - December 2018
Ashley Bach, NSICU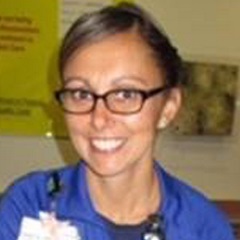 Ashley Bach is an extraordinary nurse who goes above and beyond for each and every one of her patients. She is one of those people who you know was meant to be a nurse. She is compassionate and very caring. She was my advocate when I could not do it for myself. She did whatever was possible to make me more comfortable.
She helped me in many ways during my stay in neuro ICU. Ashley learned my hand signs when I was not able to speak. She knew my facial expressions when I was in pain or was comfortable. Ashley was my cheerleader. She got me moving. Once I was allowed to get out of bed, Ashley helped me set goals each day. We worked hard to accomplish them. Things that seemed small were big to me, like feeding myself, sitting in a chair, walking to the bathroom, and washing my hair. I had many X-rays, scans, and MRIs. Ashley went with me and told me later she was praying for me during the tests.
Ashley and I spoke about the churches we attend, our children and families. Ashley told me she thought about me when she was at home and prayed for me. I love you, Ashley. I wish you and your family peace, love, joy, health, kindness, and happiness.
Submitted by: Jackie – a grateful patient
Anna Derewianka, 6SS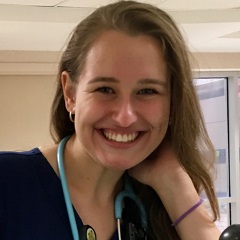 Recently, my 94-year-old mother was taken to Miami Valley Hospital by EMTs. After tests and blood work, she was admitted to the surgical unit on the sixth floor and introduced to her nurse. Anna seemed to take to Mom right away. Having conversations with Anna, I found out she had taken care of her grandmother, which explained her ability to have empathy for Mom.
Each time Anna entered the room, she was happy and cheery. She noticed Mom's hair was a mess and brought her a waterless shampoo cap, washed, massaged and combed Mom's hair. I greatly appreciated that, and so did Mom. Unfortunately at one point, Mom had to have a midline IV catheter inserted. Anna left the room to continue her duties with her other patients. Anna returned to the room after the IV team was finished placing the catheter. I mentioned Mom might need to go to the bathroom since it had been a while. Even though Mom said she did not need to go, Anna coaxed her into going to the bathroom. Mom went, and then she went!!
My sister is a retired nurse, and I know what it takes to be a good one. Anna is a good one, and certainly epitomizes the nursing profession.
Submitted by: a grateful son
Toby Foster, Neuroscience Unit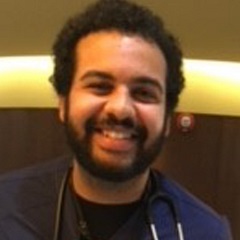 Toby is an outstanding nurse. He immediately entered our dad's room and took over with care above and beyond. He is teaching and reaching hearts of his patients and their families. Toby is a hardworking, persistent, personal, well-rounded type of guy. Miami Valley Hospital needs many more nurses like Toby!
Submitted by: a grateful family
My 89-year-old grandmother who weighs 80 pounds suffered a fall. This resulted in head and neck trauma. There are many issues to complicate her condition, including dementia, diabetes, and bilateral pneumonia. We were grateful Toby was her nurse. He showed such compassion during our five-day stay. He always listened to our concerns and took action. At no time did we feel he was too busy for us. He was very gentle with grandma and showed genuine concern for her welfare. We saw that Toby has a servant's heart and is not just "doing his job."
We appreciate his passionate persistence to correct issues as they arose. Grandma was not always responding well to treatment, especially in regards to IV fluids and blood glucose control. Toby took care of business to optimize her outcomes.
We feel God has a plan for Toby. He will have a very successful, fulfilling career as a nurse. Toby cares about his patients as much as families care, and that make all the difference!
We are very thankful for Toby!
Submitted by: a grateful family
Angie Halker, Miami Valley Hospital South Emergency Department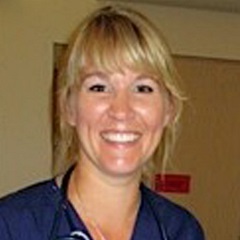 I am a newer nurse with two years of experience and recently transferred to the Miami Valley Hospital South Emergency Department. I cannot say enough how much Angie has impacted my career as a nurse. She has played a huge role in my transition to emergency department nursing.
When we huddle prior to our shift, and I see Angie in our huddle, I know my day is going to be smoother. Angie is the calm among the chaos of the ED. She is the nurse you want as both your lane buddy as well as the triage nurse. When she is my lane buddy, I know I have a backup no matter what patient comes through the doors. She is constantly willing to help and offers her assistance without being asked. I don't think Angie ever turns down the opportunity to help a co-worker.
When she triages, she is the hardest worker on the unit. She never passes the buck for someone else to take the patient from triage back to the unit room. She understands when a team has a heavy assignment and instead of sitting down while waiting for another patient, she helps the nurse in need. No task is above Angie to do; she will toilet a patient, pass medications, take a patient upstairs, whatever is needed at the moment. It takes a true team member to be this versatile in the ED. The flow of the ED works better when she is triaging because of her experience as a nurse and hardworking attitude.
She is an excellent resource to have during critical situations. During my first MI alert, Angie was working alongside with me. She was extremely calm as I fumbled through the new experience. She allowed me to learn my own way while keeping patient safety a No. 1 priority. It was a great learning experience, and now I am much more confident in those situations.
Angie treats each and every patient with respect and dignity. I can only hope that one day I will instill my love for nursing the way she did for me. I feel part of my love for ED nursing comes from the opportunity Angie gave me to learn and grow as a co-worker.
Submitted by: Brittany Hammond
Crystal Heflin, Bariatric Unit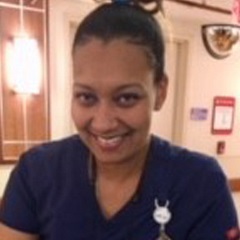 This admission, I was blessed by the good Lord above with the best nurse I have ever had, and I have had many. Crystal is one of the most caring, compassionate, and understanding nurses ever. She is a good listener and goes above and beyond her duties to care for her patients. She is a night nurse and made me feel so comfortable during my stay. She makes sure her patients have what they need at night. I would like to nominate her for the DAISY Award not only because she is a wonderful nurse but also a great person.
Crystal treats her patients as she would want her family treated. I will never forget Crystal and the care I received during my stay. God gave you a precious gift, and you use it well. I appreciate you being so kind-hearted and making me feel safe. It means a lot to me. You have been like my angel from Heaven during nights that could have been horrible for me. I will pray for you and your family and thank the Lord you were my nurse when I needed you. Please take care, Crystal. Thank you for being my angel!
Submitted by: a very grateful patient
Stacey Viers, Miami Valley Hospital South Labor and Delivery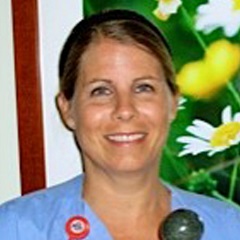 Stacey was my nurse twice while I was at Miami Valley Hospital South. She took care of me during my labor, through my recovery after surgery, during post-partum, and down to discharging me home. During my labor, she was so attentive, caring, and understanding. I suddenly became very sick, and she was with me the entire time. She is so knowledgeable and helped me be as comfortable as possible. Stacey really "clicked" with my family, my husband, and me. She felt like family.
Stacey goes above and beyond with everything she does. I can tell she takes pride in her work and being the best nurse she can be. She is very caring and passionate with her patients, and we think she is an awesome person. What is even better – she not only cared for me, but also "loved" on my son. Thanks to Stacey, I left the hospital feeling great. She helped me feel as confident as I could about being a new mom. It takes a special person to do what Stacey does for her patients. Thank you, Stacey! We will always remember you.
Submitted by: a grateful patient
<<Back to Premier Nursing News - December 2018