Recent Fidelity Health Care DAISY Award Recipients: November 2019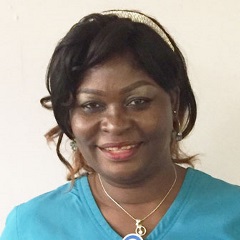 Lawretta Egodotaye, RN
I am writing you to express my sincere gratitude and appreciation for nurse Lawretta Egodotaye, who "stood out" above the rest of my health care providers while providing outstanding nursing care to me for the past couple months.
In September 2018, I was diagnosed with stage IV cancer (melanoma). My physician informed me of the seriousness of my medical condition and that I was facing the possibility of foot amputation or death.
On Oct. 18, 2018, I was admitted to Miami Valley Hospital for surgery. My oncologist removed the cancer from my feet and conducted lymph node biopsies to determine if the cancer had spread. That same day, my plastic surgeon restructured my feet and performed a skin graft. While in the hospital, I developed an infection at the biopsy surgery site resulting in a 3-inch hole opening at the site. Upon discharge from the hospital, I was made aware I would be receiving skilled nursing, physical therapy, and occupational therapy from Fidelity Health Care.
I met several nurses during the time that Fidelity provided in-home nursing care to me; however, nurse Lawretta Egodotaye made an everlasting impression from the moment I met her until my discharge from Fidelity. Because of her knowledge and professionalism, she made me feel confident that I was in good hands, and she eliminated all the anxiety I had concerning my aftercare needs being met and for my recovery outcome to be successful.
It became clear to me that nurse Egodotaye did not look at her profession as a "duty," but that she loved being a nurse and caring for others. Nurse Egodotaye showed compassion, and her devotion to go the "extra mile" made me believe I was her "number one" patient. Every day that she was assigned as my nurse, I looked forward to seeing her. Several times, I even called the office to request her by name. She was my ray of sunshine every time she came to see me.
Nurse Egodotaye provided special attention to my foot wound, my wound case by the biopsy surgery site infection, and my skin grafts. She took the time to adequately clean the wound areas, apply the appropriate medication, and carefully applied gauze bandages, sponges, and elastic bandages to "perfection." Thus, all my wounds and skin graft areas are successfully healed. She not only took care of my wound but cared for me spiritually and emotionally every time she came. She would come on her days off, including weekends, just because I requested it. She made me believe that I would get through this and gave me strength I did not know I had. She was very, very patient and tender with my wound. Every time I saw my surgeon, he was very impressed with the care I was getting, and I always told him my nurse was the best.
She not only performed her job excellently but would go out of her way to get me food or anything I needed. She always made sure I was eating and educated me on the need for high protein diet to help my wound heal. She was very accommodating with my timing and would always make sure I was comfortable.
Because of the care I received, my wound is all healed, and I am ready to go back to work. If there is an award for an excellent nurse, she qualifies for it. You are blessed to have her. Because of her, I will use Fidelity and this nurse repeatedly if I need to, and let anyone know Fidelity has the best nurses.
I appreciate having such a skilled nurse looking after me, and the amazing service she provided. Thank you for letting me walk this walk with her. Please pass on my sincere "Thank You" to nurse Lawretta Egodotaye!
Kelly Johnson, LPN
She should be honored because of her willingness to extend compassion and caring to her patients, even when she is fighting to beat breast cancer herself. She always uses nursing interventions to improve her patients' health, including a lot of dietary teaching and a lot of education on the benefits of a healthy lifestyle, including exercise and a strong support system. If a patient has any problems, she always makes sure there is a follow up plan in place. She is always giving the patients a shoulder to unburden themselves on, including a shoulder for the patient to cry on. She understands that home care nursing is about caring for the patient, their environment, and their family and working with the resources that are unique to every patient. She is confident in her ability to improve patients' lives with community resources, education, and mental and physical support in many different forms. She is a great support to the employees that work with her in the field, and I am proud to call her the best coworker of my career.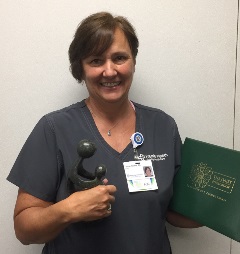 Tonnie Reimer, RN
Tonnie contacted me (social work manager) after seeing an over 60-year-old patient in her home. Tonnie had seen this patient in the past and upon arrival immediately noticed something was not "right." This patient had recently had surgery on her leg and had been home three to four days when this visit took place. Tonnie assessed that this patient's home had been well taken care of in the past, and the patient used to be very "put together." This day, the home was a mess, and the patient looked disheveled. When Tonnie asked the patient how she was doing, the patient reported "I've got myself into a mess." Tonnie used her excellent assessment and communication skills to discreetly ask the patient what she meant. The patient reported she had been severely abused by a new boyfriend since she had returned from the hospital. This boyfriend had manipulated his way into moving into the patient's home a couple of months earlier and was present in the home during this visit, which made this situation very delicate for Tonnie. However, she acted quickly to create a safety plan, which included the patient inviting her father over to the home and a plan to call the police when her father arrived. Tonnie also immediately reached out to the social work team to make sure the patient was aware of resources to help her recover from the abuse. Tonnie stayed with this patient and provided excellent emotional support and care. By the end of the day, the boyfriend had been removed from the home, and the patient was safe. Tonnie continued checking in on the patient after hours to make sure she was OK. Tonnie's compassion and dedication to her patient was every bit of what an extraordinary nurse is. She changed someone's life that day, and I know for sure the patient is more than grateful she showed up that day in more ways than one.
Back to the November 2019 issue of the Nursing Newsletter