Premier Health Named to "Most Wired" List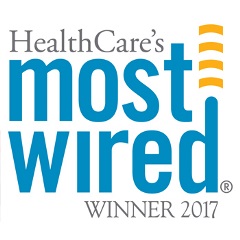 Premier Health has been named to 2017's Most Wired list in recognition of its efforts to simplify the interaction between patients and health care providers through advanced technology.
Premier Health is the only health system in the Dayton area named to the list.
New tools are helping patients maintain their health and become more actively involved in their care, according to results of the 19th annual Health Care's Most Wired® survey, released recently by the American Hospital Association's (AHA) Health Forum.
According to the survey, Most Wired hospitals are using smartphones, telehealth and remote monitoring to create more ways for patients to access health care services and capture health information.
In recent years, Premier Health has rolled out several "wired" applications, including telehealth in various applications such as e-visits and virtual visits, electronic medical records and the MyChart app.
This year's results show that, among recognized hospitals:
76 percent offer secure messaging with clinicians on mobile devices.
When patients need ongoing monitoring at home, 74 percent use secure emails for patients and families to keep in touch with the care team.
68 percent simplify prescription renewals by letting patients make requests on mobile devices.
62 percent add data reported by patients to the electronic health record to get a better picture of what is going on with the patient.
Nearly half of the hospitals use telehealth to provide behavioral health services to more patients.
40 percent offer virtual physician visits.
More than 40 percent provide real-time care management services to patients at home for diabetes and congestive heart failure.
Most Wired hospitals are transforming care delivery with knowledge gained from data and analytics. They are investing in analytics to support new delivery models and effective decision-making and training clinicians on how to use analytics to improve quality, provide access and control costs.
HealthCare's Most Wired® survey, conducted between January 15 and March 15, 2017, is published annually by Hospitals & Health Networks (H&HN). The 2017 Most Wired® survey and benchmarking study is a leading industry barometer measuring information technology (IT) use and adoption among hospitals nationwide. The survey of 698 participants, representing an estimated 2,158 hospitals (more than 39 percent of all hospitals in the United States), examines how organizations are using information technology to improve performance for value-based health care in the areas of infrastructure, business and administrative management; quality and safety; and clinical integration.
<<Back to Premier Nursing News-October 2017
Source: Premier Health Nursing