Novice of the Year - May 2018
The Novice of the Year category recognizes nurses who exemplify outstanding and caring leadership and professionalism within their first 24 months of practicing as a registered nurse. These rookie nurses demonstrate capabilities beyond their limited experience.
This year's honorees are:
Christopher Green, RN
Bryn Greenwell, BSN, RN
Derek Mayberry, RN
Abigail Shalloe, MSN, RN, CBC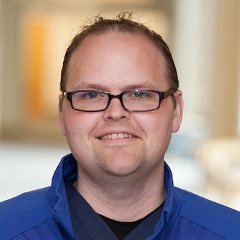 Christopher Green, RN
Clinical Nurse, Emergency Department, Upper Valley Medical Center
Christopher demonstrates our core values of respect, integrity, compassion, and excellence on a daily basis. On the first day of his Versant Residency, a patient he cared for took the time to call and report that his care was "excellent from beginning to end!" "My nurse was efficient and explained everything in a way that I could understand," the patient said. That positive recognition set the tone for Christopher's entire 18-week residency. Patients, families, and co-workers frequently recognized him for being compassionate, respectful, and knowledgeable. One of his passions is treating patients addicted to opiates. He gave a powerful presentation to staff at a monthly staff meeting that focused on the history of the current opiate crisis affecting the United States and the importance of providing that population with non-judgmental, compassionate care. Christopher's caring, professionalism, and ability to "walk the talk" make him an excellent choice for novice of the year.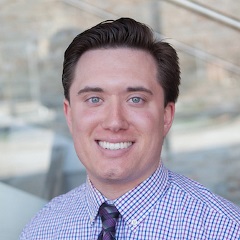 Bryn Greenwell, BSN, RN
Clinical Nurse, Oncology Services; Medical Oncology, Miami Valley Hospital
At age 21, Bryn exemplifies the "best of the best" as a new nurse. He finished his BSN in three and a half years and at the top of his class, and not only applied to the top hospital in the region, but to a difficult unit: oncology. Bryn has sought out difficult patient loads to help him meet his learning goals. He volunteered to precept, obtained his chemotherapy certification within his first year as a nurse, job shadowed his team leader in less than a year of employment, and now fills in as a night shift team leader. He has also applied for a team leader position. Bryn's respect and compassion are evident when his nurse managers receive positive feedback and evaluations from his patients, and when his patients request him as their nurse on subsequent admissions. He always does the right thing and advocates for patients. He has an excellent attendance record, arrives early to work, learns about his patients, and is always ready to begin his shift. He is so proud to be an MVH nurse, and his patients definitely see that from the care, compassion, and respect he shows both them and his co-workers.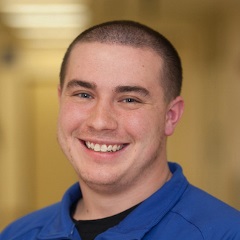 Derek Mayberry, RN
Clinical Nurse, Heart and Vascular 2, Good Samaritan Hospital (closed in 2018)
While Derek has only been practicing since July 2017, he consistently goes above and beyond in all aspects of his care not only for patients, but for his co-workers as well. Derek stepped up and assumed multiple leadership roles during a time of turmoil on our unit, including unit council chair and champions team member. He recently spent more than an hour talking with a patient about the importance of going to a facility for rehab, and was instrumental in getting the patient to accept recommendations made by the PT/OT. Patients consistently recognize Derek as being punctual, compassionate, caring, funny, knowledgeable and informative. He also has received two DAISY Award nominations in his short time as a nurse. In one nomination, a patient wrote, "He made sure to treat me as a person and not a patient locked up in the hospital. It was like hanging out with a friend versus a nurse." Derek is the nurse you call when extra help is needed on the unit, whether it be to care for patients or stock items on the floor. After a recent code on our unit, one nurse said she didn't know what she would have done without Derek's assistance, knowledge, and technical skills.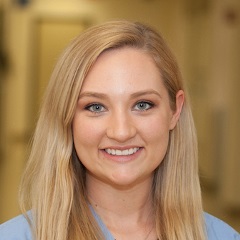 Abigail Shalloe, MSN, RN, CBC
Clinical Nurse, Labor and Delivery, Good Samaritan Hospital
Abby truly shows what the Versant program is doing for our new graduates at Premier Health, and she is the best of the best. Labor and delivery nurses need to be able to rely on coworkers in a crisis and know that they have their back. Every time Abby works, she watches monitors and pays attention to what is going on with all patients, not just her own. She is the first one to jump up and help when fetal heart tones drop and all hands are needed on deck. Abby recently experienced a true obstetrical emergency that she had never been a part of before. She moved through the OR so swiftly and with certainty that we were all shocked to learn she had never been in a code green before. She stayed calm and collected in that moment, showed what a team player she is, and helped ensure a good outcome for the mom and baby. As a patient advocate, I have personally seen Abby repeatedly call a physician when a fetal heart tracing did not look good, because she wanted to make sure that she was keeping the patient and her baby safe.
<<Back to Premier Nursing News - May 2018