Moving Mountains Together
By Peggy Mark, Ph.D., system vice president, chief nursing officer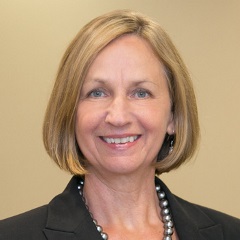 As we look around our hospitals, our care sites, our health system and our industry, we see transformational change occurring everywhere. As nurses, we are accustomed to change – both in our work environment and in our mission to improve the lives of those we serve. In a sense, change is what we do.
Having experience and even expertise in leading and managing change doesn't mean it is easy or comfortable. Sometimes it feels like we are moving mountains. With the amount and pace of change we face today, we must call on all the support, creativity and resources available to us to manage through effectively and compassionately. From my perspective as your System CNO, I see you – our incredible nurses, PCTs and HUCs – working together, supporting one another, and using your unique skills to provide great care to our patients and their families.
Recently we have faced two major changes with the retirement of our Upper Valley Medical Center CNO Terry Fry after 24 years of service, as well as the transition of our Miami Valley Hospital CNO Jolyn Angus back to her hometown of Atlanta. We are very happy for Terry and Jolyn while feeling the sadness of seeing them go. We also celebrate Trish Wackler's move to UVMC CNO and Christie Gray's move to Miami Valley Hospital CNO.
Change is also felt as we approach the closing date for Good Samaritan Hospital (closed in 2018). Throughout this difficult but necessary process, we have also managed to pull together across our entire health system to support each other, our physician partners and all of our essential partners. Our system leadership team has made it possible for any Good Sam physician or employee interested in staying within Premier to do so. In every transaction and interaction, as we are forming new relationships and integrating our practices into new places, teams and cultures, I have seen our values of respect, integrity, compassion and excellence illuminated.
Health care will continue to change. So will nursing and the environments in which we carry out our mission of care. My commitment to you is to work side by side with our nursing and organizational leaders along with each of you through our Shared Governance committees to continually find resources and remove barriers that may inhibit your ability to do your great work. I have listed just a few of these initiatives below. Your leaders will keep you updated as we move forward. I count on each of you to bring your creative thoughts and solutions forward so that we can move our mountains together.
Initiative and Respective Project Lead(s):
Recruitment & Retention: Peggy Mark and Barbara Johnson
GSH Transition: Christie Gray and Jolyn Angus
Epic Nursing Workflow Efficiency: Pam Phelps
Alarm Management: Allison Potts
Time and Attendance Workflow Optimization: Sharon Thornton, Pam Phelps, Zakiya Robinson
Acuity and Scheduling Workflow Optimization: Sharon Thornton, Pam Phelps, Zakiya Robinson
Audit Reduction and Efficiency: Pam Phelps and Sharon Hull
<<Back to Premier Nursing News - July 2018
Source: Premier Health Nursing