Meet Trish Wackler, New CNO at UVMC
By Brenda Miller, MSN, RN-BC, clinical development manager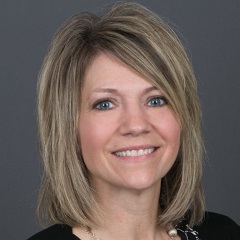 Join me as I interview Upper Valley Medical Center's chief nursing officer, Trish Wackler. One thing about Trish is that she is always busy juggling her many roles at this stage in her career. While her main role is CNO at UVMC, she also serves as vice president of education for Premier Health. Other equally important roles in her life are the role of daughter, wife, mother, and grandmother.
Trish thoughtfully looks back over the past as our interview begins, reflecting on how she reached this point in her career. She tells us that it started when she was a 16-year-old sitting in class thinking about what career path she'd like to pursue. As she pondered occupational choices, she thought about what characteristics/topics interested her the most and landed on helping others, biology, and science. The professions that combine those interests are physician, nurse, and veterinarian. Trish eventually landed on nursing because she wanted to focus on her family. The hours of the other two careers would require her to be away from them for longer periods of time.
At 16, Trish took a job as a nursing assistant in a long-term care facility. Around that same time, her brother was in a terrible car accident. She ended up helping with his care, which solidified her decision to become a nurse. From there, she transitioned to her first nursing position on a medical unit at the former Good Samaritan Hospital. Upon graduation from nursing school, Trish thought she would work on a medical unit to gain some experience and then head back into the world of long-term health care. As time went on, she liked medical nursing so well that she decided she would stay in the field until retirement. But others around her quickly noticed her leadership skills and promoted her to team lead, and then to team manager (like today's assistant nurse manager). As time went on, Trish became interested in expanding her nursing skills and took a position on the coronary care unit until it closed and merged into the ICU (intensive care unit). Her next position was working as an administrative officer (A.O.) on night shift for a year and a half. From there, she became a unit educator for the telemetry unit.
Trish's next big transition was to move into the role of a nurse manager at Soin Medical Center, part of the Kettering Health Network. Soin was a new hospital at that time, and Trish was responsible for all inpatient beds, medical-surgical-telemetry, and the ICU. She had to make numerous decisions about staffing, supplies, training, and competencies for the new staff, as well as decide which equipment to purchase and a multitude of other duties. Trish found the leadership style there to be more prescriptive rather than participatory, which led her to return to Premier Health. She took a position as an Epic order-set manager when she returned and says that it felt good to be back where she felt she could make a difference. It didn't take long after that for her star to start rising. Her next move was to direct education for Premier Health's new Learning Institute, tasked with providing education for the system. From there, Trish became Premier Health's chief learning officer for a year.
As we are chatting in Trish's office at UVMC, I ask her what her goal is for the hospital. She quickly replies that she wants to create the best care environment for staff and provide the best care possible to patients. How does someone achieve such a feat? Trish goes on to say, "By creating a great work environment; the rest will follow along."
The interview is winding down, but I still have a few more questions about other roles that Trish holds. The conversation transitions away from her career and focuses more on her private life. Her face glows with pride as she talks about her family. She tells me she is married with two sons, a stepson, and a stepdaughter. Her oldest son is a nurse at Miami Valley Hospital and he recently married the love of his life. Her younger son is an HVAC technician and father to her 1-year-old grandson, whom she adores. Then there is her 12-year-old stepson, who stays busy with basketball and baseball, and her 24-year-old stepdaughter, who works as a substitute teacher and is studying creative writing at Emerson College. In her downtime, Trish likes to read about health care with the occasional mystery/thriller/drama mixed in. She also enjoys down-home cooking and tinkering with the recipes to come up with her own version of the dish. Above all, Trish is a life-long learner and is continually looking for innovative ways to improve the delivery of patient care and education. These traits will ensure that she is successful in her new role as chief nursing officer and vice president, helping UVMC and Premier Health lead the way in health care.
<<Back to Premier Nursing News - December 2018