Meet Larry Henry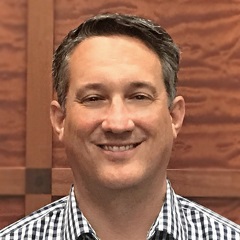 By Lori Nichols RN, MSN CCRN, ACNS-BC, CTTS
Perhaps you already know Larry. I wouldn't be surprised. Larry has been with Premier Health for 17 years, working at Good Samaritan Hospital (closed in 2018) and recently transferring to System Support as the manager of recruiting and labor relations.
When asked how he will make a difference at Premier Health, Larry stated, "…with the help of the entire HR team/partners, I believe that how we make a difference in our workplace is to be more about working together for a greater good and taking individual responsibility to be of service to others that we work with every day. I feel that I can help with this by offering a unique perspective from my experiences working between the hospital setting and now Support Services."
Larry will be working to achieve Premier Health's talent acquisition goals as they pertain to nurse recruitment. Among those goals:
Continuously identify ways to reduce average days to fill (i.e. 60 days or less).
Lower current vacancy RN rates across the health system by 5 percent.
Continue to evaluate job requirements in an effort to enhance candidate volume (i.e. ADN/BSN MOU).
Ensure recruiters have more of a campus presence to improve a customer-centric experience (for both manager and candidate).
Increase digital footprint for recruitment opportunities and improve how jobs are posted on third party web sites (i.e. Monster).
Increase video interviewing for both local/long distance candidates.
Identify ways to maximize resources/relationships with schools and organizations specific to recruitment needs.
Larry married Lisa, his high school sweetheart, graduated from the University of Dayton with a master's degree, and has raised two children in the Dayton area. He has stuck around, so I wanted to know, "What do you like about Dayton?" Larry stated, "I love Dayton's history/culture, and how the city has recently been redeveloping itself. It's been great to see all the new construction, restaurants, and community excitement generated around the city…"
This girl wanted to know, "Ohio State or Michigan, Larry? Careful now…" Showing his diplomatic skills Larry answered, "I'm more about being a Big Ten fan, but, if you make me choose, it's Ohio State!" I like this Larry guy!
Good luck to Larry Henry in his new role! He is part of what makes Premier Health great!
<<Back to Premier Nursing News-October 2017
Source: Premier Health Nursing