Clinical Practice Honorees
Those recognized in the clinical practice category are clinical and ambulatory nurses, team leaders and LPNs who spend at least 50 percent of their time providing direct patient care.
The honorees are:
Chastity Bennett, BSN, RN, Miami Valley Hospital
Alicia Bush, RN, Miami Valley Hospital
Erica Bowers, BA, RN, Upper Valley Medical Center
Debbie Gross, RN, RN-BC, Miami Valley Hospital
Elizabeth "Lizzy" Gilbert, MSN, RN, AGCNS-BC, Atrium Medical Center
Diana Lowe, BSN, RN, Miami Valley Hospital
Misty Manuel, RN, Upper Valley Medical Center
Angela Mathes, BSN, RN, Miami Valley Hospital
Kim Mize, BSN, RN, Atrium Medical Center
Rachel Roberts, RN, Miami Valley Hospital
Lynn Voge, RN, Good Samaritan Hospital (closed in 2018)
Jawana Watson, RN, Good Samaritan Hospital (closed in 2018)
Dawne Yankasky, RN, Fidelity Health Care
Chastity Bennett, BSN, RN
Miami Valley Hospital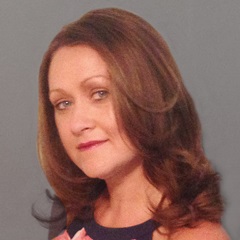 This nurse consistently sets an example in her focus on patients and families. She is a strong patient advocate, always willing to listen and ensure that patients receive all the care they need. While doing leadership rounding, this nurse is mentioned daily by her patients or families for going above and beyond in patient care. She gives exceptional care, paying attention to every detail. She also is a preceptor, taking the time to educate Versant, experienced, float, and agency nurses. This nurse always has a positive attitude and is willing to do whatever it takes. She exemplifies RICE, walking the talk in her daily routine. She is the type of nurse you want when you are ill.
Alicia Bush, RN
Miami Valley Hospital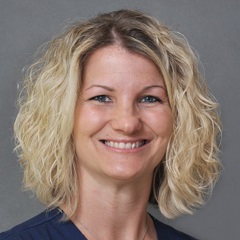 This nurse has really stepped up in the last year. She switched to day shift, took over as team leader, and is always looking for ways to improve our unit. She represented us at Triforce and was our unit Council chair. We did rounding check-offs with a Studer representative, and the representative was so impressed with her. Her comment was that this nurse was a high performer and very experienced. The Studer representative was shocked to know that this wonderful registered nurse had only been practicing for two years. She is always quick to help her coworkers. This RN goes above and beyond to see that all her patients' needs are met. She is an amazing nurse and a great example of excellence at Miami Valley Hospital
Erica Bowers, BA, RN
Upper Valley Medical Center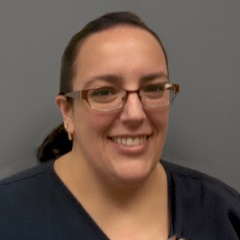 She is a valuable asset to our behavioral health unit team. She is always thinking of the needs of the patients and is truly an advocate in getting those needs met, often acting as a liaison between doctors and patients/ families. She leads by example and is a wonderful role model and preceptor to our nursing students. She is very self-directed and motivated, yet when it comes to a code situation she knows her role and performs well as part of our team. She focuses on patients and customers. In our field, trust is an integral part of caring for our patients – not just trust of each other but gaining the trust of our patients and their families when they are in crisis. She demonstrates respect, integrity, compassion and excellence in her positive attitude and the nature in which she works with patients, families, and physicians on our unit. She makes the most of the moments and is empathetic with our patients, despite how trying circumstances can be. She always wears a smile and has a word of encouragement for everyone. We are very lucky to have her on our team and I am very proud to work with such a wonderful nurse!
Debbie Gross, RN, RN-BC
Miami Valley Hospital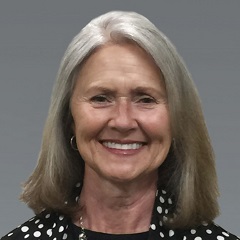 This nurse has a warm spirit about her that is contagious to both her patients and her peers. Her calm, controlled demeanor helps relieve stressful situations for the whole team. She is a great patient advocate, using her assessment skills to notice the small, unspoken struggles that patients may be experiencing. She works hard to find the right people to help a patient or family in need, whether that is social services, integrative care, or even registration. Her goal is always to do the right thing for the patient, every time. She utilizes a holistic care approach, helping patients be mindful of all aspects of their physical, spiritual, emotional, and financial health. Her wisdom has often helped the team see things from a different perspective. She wears many hats in her role, changes gears with ease, and is a joy.
Elizabeth "Lizzy" Gilbert, MSN, RN, AGCNS-BC
Atrium Medical Center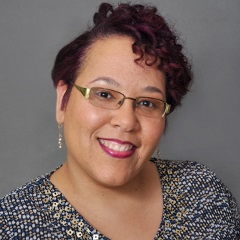 This nurse is an outstanding advanced-practice nurse. She currently manages our stroke program at Atrium Medical Center. She has grown that program by leaps and bounds since she has arrived. She is very well-versed and knowledgeable in her area of practice and is the "go-to" person regarding strokes. She is well-respected by the physicians and they will consult with her on many patient issues. She is also involved in numerous committees throughout Atrium, and her peers appreciate her knowledge. She is a "ray of sunshine" at Atrium; I have truly never seen her have a bad day. She is always very positive and upbeat and represents Atrium well outside of the hospital and in the community. She is very compassionate and cares about her patients, frequently rounding on them to make sure they get what they need. I would feel very fortunate to be in her care. I feel she is one of Atrium's "shining stars" and am glad that she is part of our outstanding team!
Diana Lowe, BSN, RN
Miami Valley Hospital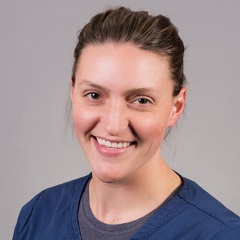 This nurse's team is consistently recognizing her for being dependable, team-oriented, trustworthy, and honest in all actions. Plus, she is a humble person who behaves this way even when no one is watching. Although she is a newer nurse, she is a go-to person to precept new nurses and be shadowed by potential staff because she has an amazingly kind and calm way of connecting to her patients. She is always respectful, works to better understand the situation, and truly wants to provide the best care with the best outcome. She thinks of others above herself and can always be counted on.
Misty Manuel, RN
Upper Valley Medical Center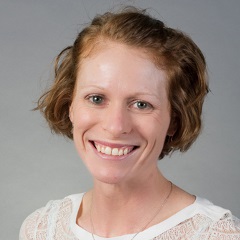 This nurse is an unsung hero in our unit. She lives our core values every day. She respects patients and staff alike, treating them always as her equal and valuing their concerns. She shows INTEGRITY by caring for every patient equally, even if they don't treat her well in return. She'll go the extra mile to improve their experience. COMPASSION is her strong suit. She seems to always "have a pulse" on the unit for patients and caregivers alike, knowing who could use a listening ear or a hug. She carries the best medicine of all – laughter! But she also can hold the hand of a frightened family member or dying patient and bring peace. "EXCELLENCE" embodies everything about this nurse. She has superb critical thinking skills, always thinking ahead and anticipating the plan of care should a patient's condition change. Recently, I recall marveling over how attuned she was to a particular patient and their family's goals. By understanding the family (and, ultimately, the patient's wishes), she was able to seamlessly assist in the transition from aggressive, resuscitative care to one of comfort. This person has shown me what it means to be a caregiver, a friend, an advocate, an innovator, a team player, a teacher, an uplifter and a listener: a NURSE.
Angela Mathes, BSN, RN
Miami Valley Hospital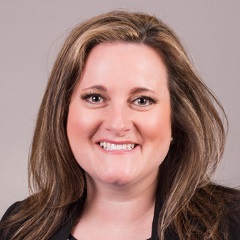 This individual has been a unit champion for our team for patient experience. She is our current unit council chair and has proven to be a dedicated and hardworking registered nurse. She provides great quality of care to her patients. She makes the most of every moment by treating her patients with respect and compassion. This registered nurse has excellent communication skills and remains professional with her interactions with her peers, doctors, and patients. She is a great team player and provides guidance and mentoring by building on their knowledge and critical thinking skills. She helps people learn and apply evidenced-based concepts of care. This registered nurse is enthusiastic about growing and learning more in her nursing profession. She embraces new information and assimilates it quickly and appropriately within her practice. She is reliable, models the behavior she expects from her peers, and is an asset not only to our team but also to the nursing profession.
Kim Mize, BSN, RN
Atrium Medical Center
Our team leader is the glue that keeps our unit running like a well-oiled machine. She is a mentor to new nurses and uses her vast knowledge of nursing care to help her co-workers give their patients the best care, every time. When there is an issue with a patient or family member, she always manages up, gets to the bottom of the issue, and handles it swiftly and with compassion. She has been a nurse for 25 years and has worked in several different departments within our hospital. Her insight into the running of other departments helps keep our patient flow seam- less and builds trust and respect between units. She leads by example every day and her core values of Respect, Integrity, Compassion, and Excellence shine through in everything she does. She is truly the "best of the best."
Rachel Roberts, RN
Miami Valley Hospital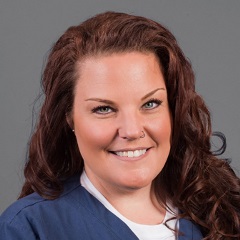 I had the honor of working beside this amazing nurse, a seemingly quiet and reserved nurse that spent her extra time getting to know her patients and family members. She is one of those rare nurses that views her nursing role as more than just a profession, but a calling that she takes seriously. She has the type of compassion that makes a nurse act; and by act, I mean the willingness and selflessness to give to her patients and families all that she can. Nursing is emotional, physical, and stressful, but it can also be extremely rewarding and satisfying. She is an amazing example of all we strive to be as a bedside nurse.
Lynn Voge, RN
Good Samaritan Hospital (closed in 2018)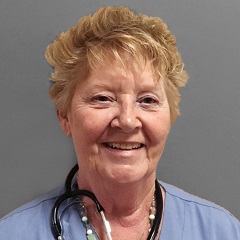 This nurse starts out each day setting up every nurse in the department for success. She is an informal leader and leads other nurses by example; nurses strive to have her level of efficiency. Her love of nursing shines through in her smile and her dedication to her unit, coworkers, patients, and their families. She demonstrates a genuine caring attitude. She listens and communicates with patients and families. She is always getting people drinks, blankets, newspapers, etc. to keep them comfortable while they wait. She spoils her co-workers with colorful reminders of regulatory procedures to be completed. She has great insight to the flow of the unit and helping to keep doctors happy with having patients here and ready. She leaves a memorable impression and is the best of the best.
Jawana Watson, RN
Good Samaritan Hospital (closed in 2018)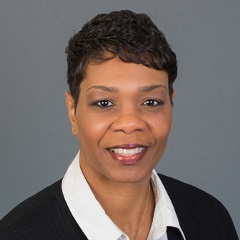 This nurse consistently shows up with a determination to give her patients the best care possible. She is a highly skilled clinician and a true patient advocate. She consistently takes her time to understand the patients. As a patient advocate, she is not afraid to stand up for patients and save their lives. She is comfortable, yet firm when she is working in a code. She is able to engage effectively with the doctors and staff because she is an expert at building trust. During a code situation in the ER, she utilized ARCC so effectively that it seemed effortless. This nurse displays flexibility by understanding the different units of the hospital. Seeing her walk-the-talk demonstrating our core values is a breath of fresh air. She takes her time in her patients' rooms and listens to her patients while putting them at ease. This nurse believes in education and is a great resource for the new nurses. She is also pursuing her nurse practitioner degree and I know she will use it to make a difference.
Dawne Yankasky, RN
Fidelity Health Care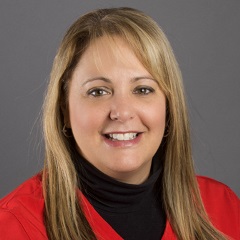 This nurse is a wound-care specialist who consistently and capably goes above and beyond for our patients and for her fellow staff. She exemplifies compassionate and skillful clinical care. She brings smiles to our patients' faces, even in the midst of painful wound care and other procedures, with her cheerful attitude, sense of humor, and stories about her animals. I have been asked about her frequently by the patients she has seen, wanting to know when she is coming back. This nurse also always makes time for her fellow nurses. She will answer questions about wound care, and is always willing to lend a hand. She advocates for her patients with physician offices and other clinical staff, and always works to get the best possible outcome. She is a valued and excellent teammate with Fidelity Health Care, and a true asset both for us and for our patients.
Source: Premier Health Nursing