Cameos of Caring - May 2019
Bedside nurses who consistently demonstrate a comprehensive understanding of the art and science of nursing, as well as a strong desire to use that knowledge to improve patient care, are selected as "Cameos of Caring."
This year's honorees are:
Kelsey Bergman, BSN, RN
Robyn Hoffman, BSN, RN
Lisa Kinzer, RN
Tami McMillan, BSN, RN, RN-BC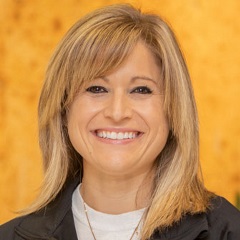 Kelsey Bergman, BSN, RN
Clinical Nurse, Miami Valley Hospital
Kelsey is a dedicated, giving, and compassionate nurse, going above and beyond when caring for her patients. One example was for a patient who had been on our unit for a long time. The day came when the physician gave the patient the diagnosis: cancer. The patient was alone and overwhelmed, yet Kelsey sat with her until her parents came. Even though the patient was transferred to Oncology, the family kept Kelsey updated on her progress. The patient had an upcoming birthday and to celebrate, Kelsey bought balloons and decorated the patient's room while she was away at testing. Upon her return, the patient was beyond emotional. The patient was discharged and continued her chemo treatments as an outpatient. The day came when her last treatment was completed. Kelsey went to her treatment with her on her day off. Kelsey had been by this patient since her diagnosis and was so happy to be there for her. She told the patient, "The day you were diagnosed was the worst day I had at work, but today, I can honestly say was one of the best!"
Robyn Hoffman, BSN, RN
Nurse Team Leader, Atrium Medical Center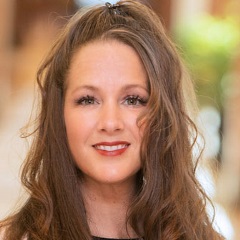 Robyn exemplifies what it means to be an outstanding nurse. An ICU nurse is often uncertain of what their day might bring, but knowing she is your charge nurse for the day means knowing you can face whatever comes your way. Robyn had a profound impact on me and illustrated what an exceptional nurse should exhibit. She advocates for and supports the nurses on her unit by assisting with every admission and using her clinical knowledge to help to stabilize each patient. She is a highly skilled clinician who often provides coaching and promotes learning. She assists nurses in setting up and using the new technology on the most critical patients in the unit. At the end of the day, she provides every nurse on the unit with the support they need to effectively provide excellent care for their patients. She is passionate about her patients and will stay at the bedside for several hours helping with procedures, caring for the patient, and explaining to the family everything that is being done for their loved one.
Lisa Kinzer, RN
Clinical Nurse, Fidelity Health Care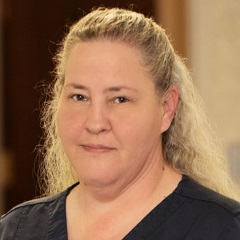 Lisa is always going above and beyond to cover on-call patients. No matter how long she works through the night, there is always an extensive report waiting for the next nurse scheduled to see the patient. Recently, Lisa went to see a patient prescribed Lovenox. When she arrived to administer the injection, it was not available. The physician did not sign the script. She called and got this corrected with the physician and the pharmacy. She still had many patients to see. She asked that the patient get the medication and she would see another patient and return. Upon arriving back, she passed the patient's spouse who was just leaving. The spouse did not return. Lisa called the pharmacy and the spouse had not been there. The patient then told her his wife had dementia. She called the police, who found the wife several miles in the opposite direction. She had gotten lost. Lisa stayed with the patient for several hours until his spouse returned home safely although she had a full night of patients to see. Lisa goes above and beyond to make sure her patients are cared for, even in situations that are not ideal.
Tami McMillan, BSN, RN, RN-BC
Nurse Team Leader, Upper Valley Medical Center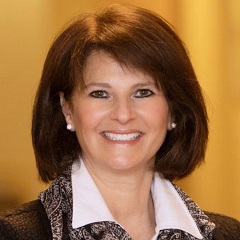 "If there is one thing I have learned on this journey, it's that there is just something special about the heart! I believe UVMC has recognized that and created a very special rehabilitation program that is so much more than machines. I believe a critical key to what makes the cardiac rehab program successful is putting the right people in place who understand this 'heart' thing." From the very first phone call, and conversation, Tami was able to identify my personality and make a heartfelt connection with me that drew me into this program where I belonged. The time she invested, relating to me that the program is about life, health, goals and what is important to each of us, may have saved my life as it protected me from my "own rehab program." I felt a sense of genuine care from Tami on that very first day. Tami is all about showing true empathy to the patient and sincerely invests her heart and soul into each patient's recovery. By modeling this to her coworkers, she has developed a wonderful team that has given love, care and concern to all who walk through the doors.
<<Back to Premier Nursing News - May 2019