A Fond Farewell to Jolyn Angus
By Lori Nichols, RN, MSN, CCRN, ACNS-BC, CTTS, clinical nurse specialist, program manager, Senior Emergency Center, Atrium Medical Center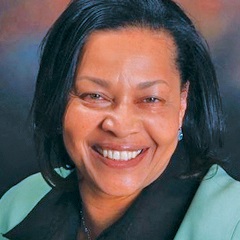 The Lignum vitae is the national flower of Jamaica. The leaves appear waxy, which renders them shiny and lush. Nestled among broad, thick leaves are clusters of delicate bright purple flowers with an exotic, tropical appearance. Lignum vitae is a strong, tough, dense wood, and can be used for many things.
To have a flower of Jamaica among us, right here in Dayton, is not only rare, but a treasure. For this treasure to serve as chief nursing officer of Miami Valley Hospital is downright special! Meet Jolyn Angus, RN, BSN, MBA, NEA-BC.
Like the Lignum vitae, Jolyn is strong, and has been used in so many places where the need for strength has been the greatest. Come with me, let's travel.
Jolyn graduated from Kingston School of Nursing in Jamaica in 1982 with a Diploma in Nursing, and was soon recruited from Jamaica by Mount Vernon Hospital in New York. After a few years in New York, she relocated to Georgia, where she pursued a bachelor's degree in nursing and a Master of Business Administration. During that time, Jolyn worked primarily as an Emergency Room nurse. After completing her MBA, Jolyn pursued the path of nursing leadership. She began with Tenet Health Care System in Atlanta, Georgia, as a nurse manager of an inpatient telemetry unit at a Level 1 Trauma Center. "In a system, you get to know what other facilities within that system are facing," says Jolyn. "I knew that a sister facility was facing great challenges. One of the main reasons for my success is my willingness to take on challenges." When Jolyn became aware that this hospital needed a director of emergency services, she set her sight on success. Many warned her, "You don't know what you are getting into!" Not only was she awarded the position, but soon Intensive Care Services was added to her plate.
Then, this Jamaican wonder blossomed. Jolyn was asked to step in as interim chief nursing officer. Even though she quickly realized things were in worse shape than she thought, she loved the challenge. "Here (were) two hospitals, in the same system, only eight miles apart," she says. "Yet they operated totally different! I am strong at physician relationships, and I share the knowledge I have. I was able to get the managers up to speed, and show them easier ways to do things." That made Jolyn stand out, and when a CNO was hired, Jolyn was made assistant CNO. In four years, this hospital's scorecard went from the worst to the top – like a rocket!
And so, it began.
When Tenet identified a struggling team, Tenet would plant a flower amid the struggling team…a Jamaican flower!
Jolyn went to Indio, California, where she was told, "Turn it around." Turn it around she did! Jolyn and her team won the inaugural Safety Award for identifying issues that needed attention in a busy women's center. Jolyn spent the $10,000 award by celebrating with the team. "This" Jolyn says, "was the proudest moment of my career!" This is also where she met Syl Trepanier, as she reported to him through a matrix of dotted lines.
Then Tenet called.
Two and a half years later, Jolyn was asked to go to a facility in Florida that had gone through four chief nursing officers in three years. What a delicious challenge! But Jolyn describes the experience as the worst experience of leadership in her career. "(It was) extremely dysfunctional, totally self-inflicted," she says. "You can't make sense out of nonsense; so when a CNO role opened in Atlanta, I went home!"
Who better than Jolyn to captain the ship of two hospitals merging, consolidating? Once again, Jolyn navigated a successful team through the rough waters of downsizing toward calm seas. And once again, it was time to move to a new challenge.
That's when Syl called.
"Dayton? Where is Dayton?" Jolyn recalls thinking. "Ohio? Perfect. I'm interviewing in Tulsa, Cleveland, and D.C. I'll interview at Premier Health!" You see, good things happen to good people. We, here in Dayton, are good people. So Jolyn, the strong, bright, beautiful Jamaican flower whose name means successful visionary, picked Dayton!
"I have had an amazing career in Dayton!" she says. "If you have only worked for one of the facilities that make up Premier Health, you can't compare. But I can tell you, it is wonderful here – cutting edge, where things are done well!"
And now, Jolyn will be moving on once again. "Going home, I can slow down," she says. "Christy (Gray) has roots here, more of an investment. I have no plans now; maybe consulting, because I'm not ready to retire!"
In her time with us, Jolyn Angus RN, BSN, MBA, NEA-BC has made Premier Health a better place.
<<Back to Premier Nursing News - July 2018
Source: Premier Health Nursing