Study: Treatment Offers Hope For Women With Triple-Negative Breast Cancer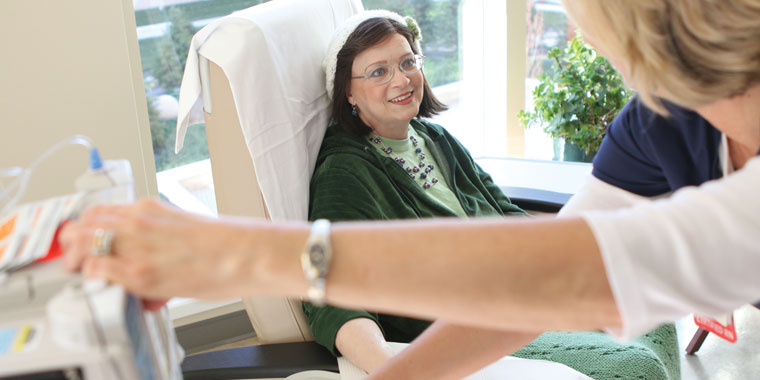 Find Your Perfect Match
Answer a few questions and we'll provide you with a list of primary care providers that best fit your needs.
A recently published study in the New England Journal of Medicine demonstrates the life-saving potential of a combination therapy for an aggressive, harder to treat form of breast cancer. The study's lead investigator says the treatment, approved by the Food and Drug Administration, could save the lives of as many as 10,000 American women a year.
Premier Health Now spoke with hematologist-oncologist Sana Jeffreys, MD, about the study's findings. The study shows that combining chemotherapy with pembrolizumab (Keytruda®) before surgery can lower the risk of recurrence of triple-negative breast cancer (TNBC).
"When this combination was compared to chemotherapy alone and given before surgery, there was improved complete pathological response, which means that at the time of surgery, there was no viable cancer left in the breast or lymph nodes," she explains. "Patients who attain a complete pathological response live longer free of cancer."
The study involved women with early TNBC, in which the cancer was either larger size or had spread beyond the breast to the lymph nodes. TNBC accounts for about 15 percent of all newly diagnosed breast cancers and tends to be faster growing, faster spreading, and more deadly than other breast cancers. The "triple-negative" means that the cancer cells don't have estrogen or progesterone receptors and make no or little HER2 protein.
Dr. Jeffreys describes the immunotherapy drug pembrolizumab "works by activating the patient's own immune system to target the cancer cell. In breast cancer, we currently know that these classes of medications work better combined with chemotherapy."
The combination therapy is given intravenously before a patient undergoes surgery to remove the cancer. The long-term study showed that three or more years after the study, the chance of the cancer coming back was 37 percent less when patients were treated with the combination therapy versus chemotherapy alone.
"Immunotherapeutic medications are transforming the way we treat cancers and leading to better overall prognoses," says Dr. Jeffreys, who is using the combined therapies both before and after breast cancer surgery as the standard of care at Premier Health.
Find Your Perfect Match
Answer a few questions and we'll provide you with a list of primary care providers that best fit your needs.
Sources: Sana Jeffreys, MD, Premier Blood and Cancer Center; Bloomberg.com; Centers for Disease Control and Prevention; American Cancer Society