Parent Alert: Vaping Hazardous To Your Child's Health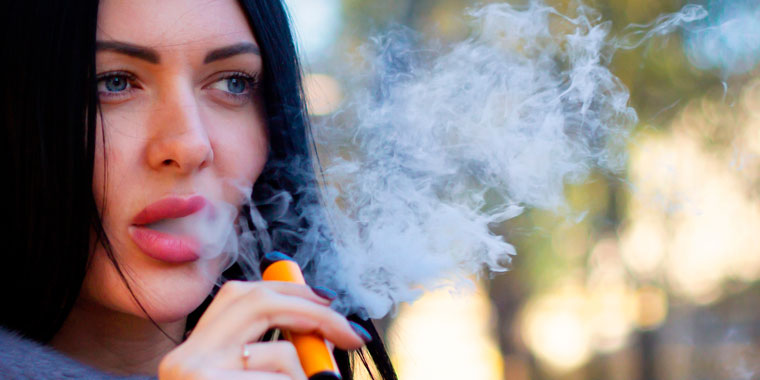 Find Your Perfect Match
Answer a few questions and we'll provide you with a list of primary care providers that best fit your needs.
More than 2 million U.S. high school students say they use electronic cigarettes (e-cigarettes), according to a new national survey. The study further reveals that teens are starting at younger ages and vaping more frequently.
Premier Health Now consulted with family practitioner Mark Williams, MD, about the potential dangers of vaping and what parents can do to prevent or stop use of e-cigarettes by their own children.
"A percentage of kids are waking up in the morning and using a vape device," Dr. Williams says. "That to me is frightening – to hook these teens into a potentially lifelong addiction."
Nicotine is the highly addictive component of e-cigarettes, with levels more potent than in cigarettes. Dr. Williams continues, "We know other chemicals inhaled from vaping primarily affect the lungs, but what are the long-term effects on the brain and vascular system? We don't know yet, but I can't imagine they're good."
Flooded with more than 8 million applications for e-cigarette products, the U.S. Food and Drug Administration (FDA) has fallen behind in its efforts to regulate these products. In 2020, the FDA banned flavored cartridge-based e-cigarettes, which were especially popular with young people. However, disposable flavored e-cigarettes quickly took their place.
Parental Control: What You Can Do
Brian King, the director of the FDA's Center for Tobacco Products, says, "Prevention of e-cigarette use among kids remains a top priority." He adds that the FDA is nearing the end of its backlogged review of products. And experts expect the FDA to soon begin removing vaping products from the market.
But rather than waiting for stricter governmental controls, parents need to rely on their own resourcefulness to curb vaping by their children.
Dr. Williams says it's often difficult to detect if your child is vaping, because the devices are easy to hide and easy to get from friends and acquaintances who are old enough to buy them.
If you've identified that your child is vaping, Dr. Williams says, "You can try talking to them about the health effects – both known and unknown. However, this age group is great at thinking 'that's not going to happen to me.'"
Dr. Williams continues, "Another approach is to point out to teens that the companies selling these products are trying to control your thoughts and actions. Ask your child if that's what they really want – someone controlling them. Also mention that there are other things to spend your money on, because vaping is expensive."
To get help for your child, talk to a family doctor or pediatrician, who can recommend treatment options such as a nicotine patch. The Ohio Tobacco Quit Line, (800) QUIT-NOW, can offer free counseling on how to quit using cigarettes and e-cigarettes. Additional information is available through the American Academy of Pediatrics.
Find Your Perfect Match
Answer a few questions and we'll provide you with a list of primary care providers that best fit your needs.
Sources: Mark Williams, MD, family practitioner, Premier Health Primary Care – Beavercreek; CNN; NPR