If a Summer Cold's Got You Down, Here's Why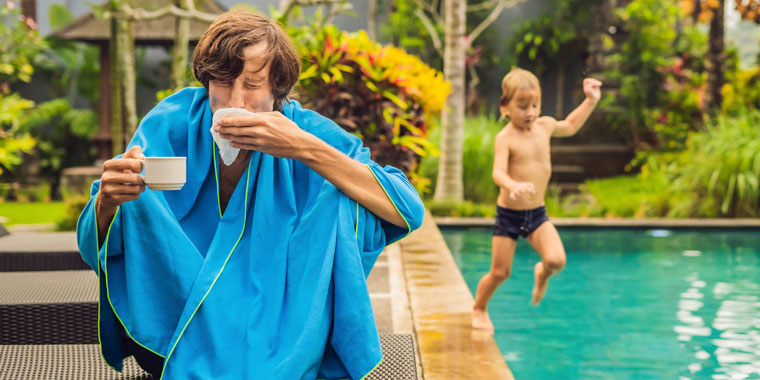 Find Your Perfect Match
Answer a few questions and we'll provide you with a list of primary care providers that best fit your needs.
"Summertime, and the livin' is easy." So goes the song.
But for many this summer — possibly you — life's been sneezy. Maybe with nasal congestion, a runny nose, an earache, a cough, or sore throat. The kinds of cold symptoms you're more accustomed to in winter.
An unseasonable surge in common respiratory illnesses is being reported across the country. Here, in Ohio, that gives us more to complain about than the usual heat and humidity.
Why? Premier Health Now asked Brittany Jamison, MSN, APRN, FNP-C, an advanced practice registered nurse with Premier Health Urgent Care.
"We've seen this across all ages, from young children to older adults," she says. Her explanation for it is pretty simple.
As we hunkered down to avoid COVID-19 — social distancing, wearing masks, sanitizing, and washing our hands as never before — we evaded other germs as well. Like the viruses that cause common respiratory illnesses.
And that was a good thing. This past flu season was relatively calm. But once we emerged from COVID protocols, our immune systems reentered in a relatively weakened state.
"If you're not around common cold germs (at school or in the office), you're going to lose some of the natural immunity you've built up previously," explains Jamison. "While we've all been doing our due diligence to try to keep COVID at bay, we have somewhat hindered our ability to avoid getting sick from other viruses. Sometimes we forget that other germs and viruses besides COVID are still easily contracted."
Getting out and about also means we've increased our exposure to allergens in the air. "It's been a pretty rough pollen season. We have a lot of people coming in with pretty classic allergic symptoms — watery eyes, stuffy nose, and scratchy throat. Many patients have additional symptoms that are often associated with viral or bacterial sinus/respiratory infections. I have seen patients present with many other respiratory viral infections over the last several months."
Cold Or COVID?
That's a common question that patients ask Jamison and her colleagues. COVID and other respiratory illnesses like the flu have some symptoms in common.
She advises, "The first thing to do is catalog your symptoms. How long have you been sick? Have you tried anything over the counter? Is it working? Is it not working? Have you been traveling internationally or to areas with high rates of COVID-19? Have you had increased exposure to individuals who may have COVID?"
To help you rule out COVID, she says, talk with your health care provider, who can order COVID testing and give guidance to help you understand how you can protect yourself and others. Your provider can also offer screening for other infections, such as viral illnesses and bacterial throat infections.
Boost Your Immunity
You can help boost your immune system to fight off germs that cause common respiratory illnesses, Jamison advises, by adopting a range of healthy lifestyle practices.
"Many of our patients have made great strides in their personal health during the pandemic. They work out more, participate in outdoor activities, eat healthier, and stay well hydrated. Patients often report using Vitamins C and D to help boost their immune systems.
"We're not quite out of the woods yet, but if you just try to stay healthier through increased exercise, diet, hydration — and strive for better overall health — then your immunity will be positively impacted."
Find Your Perfect Match
Answer a few questions and we'll provide you with a list of primary care providers that best fit your needs.
Source: Brittany Jamison, MSN, APRN, FNP-C, Premier Health Urgent Care