How To Navigate COVID-19: 2022 Edition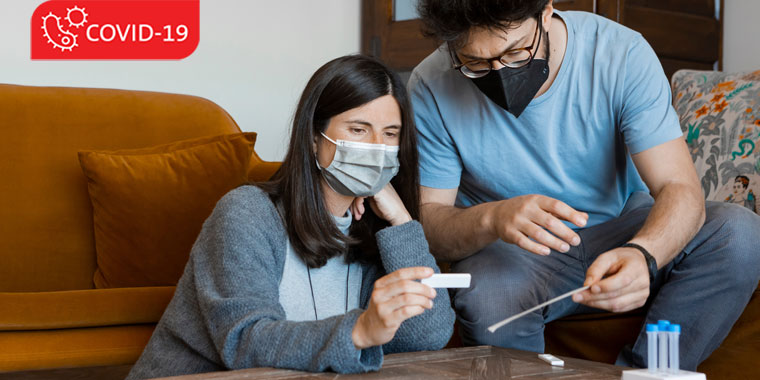 Find Your Perfect Match
Answer a few questions and we'll provide you with a list of primary care providers that best fit your needs.
Keeping up with the latest COVID-19 variants and protocols has been challenging. And confusing.
That's why – as we pass the pandemic's two-year mark – Premier Health Now had a virtual visit with Brittany Jamison, MSN, APRN, FNP-C.
Jamison, advanced practice provider (APP) clinical manager for Premier Health Urgent Care, offered us clear, practical advice on how to navigate COVID-19 now, to protect yourself, your family, and your community.
"One of the biggest challenges patients are facing is trying to understand how to choose the most appropriate means of staying safe, getting yourself and your family tested, and recognizing the most appropriate avenue for testing," she says.
Telehealth Helps Prevent the Spread
If you have mild COVID symptoms – for instance, a stuffy or runny nose, sore throat, headache, mild fever – Jamison recommends having a telehealth visit with urgent care or your primary care provider. However, Jamison advises that patients should feel confident and safe seeking an in-person visit at Premier Health Urgent Care locations, as well.
"Premier Health has an easy-to-use telehealth and virtual service available 24 hours a day, seven days a week. Our providers are very happy to see you virtually if you think you or someone in your family has COVID and needs a test, or you have a child that's sick and you want to talk with someone about what to do next."

People with mild COVID symptoms should not use the ER as a testing site. This is "keeping the wait times high for individuals that need to be seen for something other than COVID," Jamison says.
If you have mild symptoms and want a test, she recommends using a proctored at-home rapid antigen test, available at pharmacies and other stores, and following the test directions. They're covered by insurance.
"People are using the easy at-home testing option, which is great, but often they don't know what to do once they test positive. Using a Premier Health virtual telehealth visit or scheduling a visit with Premier Health Urgent Care can help answer these difficult questions for anyone."
However, she adds, "If your symptoms become more severe; including coughing, wheezing, shortness of breath, difficulty breathing, and it's progressively worsening, it's appropriate to seek immediate care. These symptoms may or may not be caused by COVID, and seeking help at an urgent care or an ER is recommended."
When To Test And Quarantine
At-home tests are most accurate when taken at least two days after you notice symptoms, Jamison says. "The longer you wait for testing, the more accurate the results with at-home rapid kits."
If you test negative for COVID, but your symptoms continue and you know you were exposed to COVID, quarantine at home and test again at day 3 or 4 to make sure. And if you test positive, isolate at home apart from other family members to protect them.
"Once you test positive, the chance that you have already exposed other individuals once your symptoms have started is quite high," Jamison says. Under current guidelines from the Centers for Disease Control and Prevention (CDC) you should quarantine at home from the onset of your symptoms through day 5. She encourages people to note when they develop symptoms, and this would count as day 0.
You can remove yourself from quarantine at the end of that five days, so long as your symptoms are improving, you don't have a fever for more than 24 hours after the five days, and you don't have worsening respiratory symptoms. However, you'll need to wear a mask for five days, post-quarantine, when you're out in public or return to work.
Jamison adds that individuals in your home should remain in quarantine with you and should test for COVID on day 5, post-exposure, and wear a mask for a total of 10 days after exposure.
"We are trying to keep the community spread down as much as we can. That's one of our biggest goals right now, educating people to appropriately use a home test, on what day, and when to quarantine, to prevent them from exposing individuals. We are hopeful that together we can continue this fight to bring back some normalcy."
Find Your Perfect Match
Answer a few questions and we'll provide you with a list of primary care providers that best fit your needs.
Source: Brittany Jamison, MSN, APRN, FNP-C, advanced practice provider (APP) clinical manager, Premier Health Urgent Care