Hang On, Enjoy the Roller Coaster Ride - Safely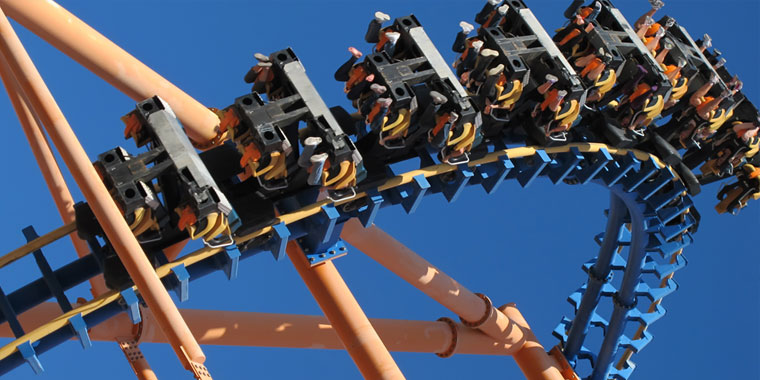 It's roller coaster season, and coaster enthusiasts are ready to ride, especially after last year's limited pandemic season.
Premier Health Now spoke with Brandon Amburgey, DO, emergency medicine physician at Miami Valley Hospital, about staying safe while you and your family are enjoying the big thrill rides at local amusement parks.
Height And Health Precautions
Follow a ride's height requirement, Dr. Amburgey says. He explains that these guidelines ensure a ride's restraint system can function properly. "If you're not tall enough for the seat, the restraint won't protect you," he says.
Minimum height requirements generally range from 44" to 54", depending on the roller coaster's speed, hill steepness, and loops.
He advises paying attention to warning notices if you have back pain or neck problems, a history of heart disease, or recent surgery.
"For roller coaster injuries seen in the the emergency department, I see mostly musculoskeletal injuries, including whiplash, and bumps, scrapes, and bruises," he says.
If you have a history of heart attack or heart failure, he counsels avoiding fast roller coasters with big hills. "The adrenaline from riding these rides could lead to a heart attack."
He further cautions women who are pregnant not to ride roller coasters, which may increase the risk of spontaneous miscarriage. "Nothing in the abdomen is fastened to bone, so G forces and sharp turns present more of a danger as a baby grows," Dr. Amburgey explains.
More Safety Tips To Enjoy the Ride
To enjoy your roller coaster rides with minimal chance of injury, Dr. Amburgey offers these suggestions:
Make sure restraints fit snugly across your body. Let the ride operator know if anything is not fastening or is too loose.
Stow personal items securely under the seat so they don't fly up to hit you or someone else. Put away your phone or camera and experience the ride rather than trying to record it.
To avoid whiplash injuries, make sure your head is firmly planted against the back of the seat, and keep it there throughout the ride.
Stay hydrated — especially in the heat — and take breaks between coaster rides to avoid dizziness, lightheadedness, or fainting.
Don't forget to apply sunscreen to avoid painful sunburn.
If a coaster looks like it's not well-maintained, avoid it.
If you feel aches and pains following your day at the park, use ice or an over-the-counter pain reliever. If the pain lasts more than two weeks, see a doctor.
"In general, roller coasters are very safe as long as you adhere to precautions the park has set and use safety equipment and restraints properly," he notes. "Then, hang on and enjoy the ride!"
Source: Brandon Amburgey, DO, emergency medicine physician at Miami Valley Hospital