Gains Against Cancer Continue – Especially For Lung Cancer, Melanoma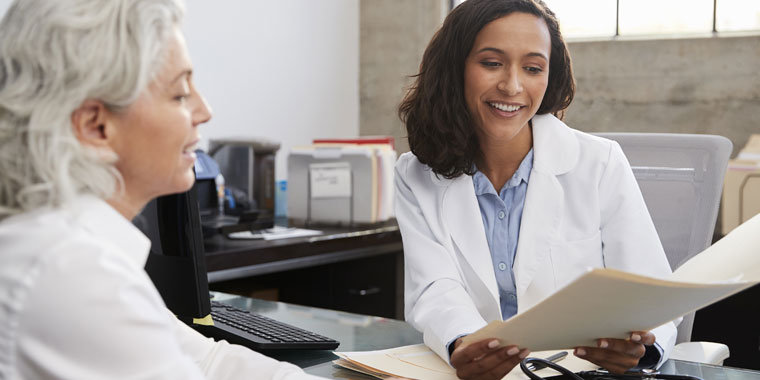 Find Your Perfect Match
Answer a few questions and we'll provide you with a list of primary care providers that best fit your needs.
Progress continues in the fight against cancer, according to the latest Annual Report to the Nation on the Status of Cancer, published in the Journal of the National Cancer Institute.
Most notable, says surgical oncologist James Ouellette, DO, chair of the Premier Health Cancer Institute: From 2001 to 2018, the decline in the lung cancer death rate accelerated. And in more recent years, the death rate for melanoma, the most serious form of skin cancer, declined considerably.
The collaborative report — by the American Cancer Society, the Centers for Disease Control and Prevention, the National Cancer Institute of the National Institutes of Health, and the North American Association of Central Cancer Registries — shows that death rates fell from 2014 to 2018 for 11 of the 19 most common cancers among men and for 14 of the 20 most common cancers among women.
Further, the report states that overall cancer death rates continue to decline in men and women across all racial and ethnic groups in the U.S.
Improvements In Cancer Treatment
Here's how Dr. Ouellette explained this news to Premier Health Now: "The introduction of immunotherapy has changed the world for lung cancer." Immunotherapy helps your body recognize cancer cells — and stop them — much like how your body's immune system defends you against viruses and bacteria.
"For melanoma," he adds, "what we've seen in the last several years is a multitude of drugs that have very specific targets and ways to boost the immune system against the tumor."
Dr. Ouellette also credits the increased use of lung cancer screenings over the last five years, though "it's not as widely used as mammograms or Pap smears or prostate screening. For sure, lung cancer CT scans for those who fall into the right risk groups can identify abnormalities earlier." That can lead to more timely treatment of lung cancer and a lowered death rate.
Reductions in smoking also play a role.
"For melanoma, we see similar changes," he says. "In the first 10 years of my career, we had few new drugs for melanoma. In the last 10 years, there has been a flood of treatment options for advanced and metastatic melanoma." Metastatic cancer spreads from its original site to other organs in the body.
Exploring the biology of a tumor can help doctors determine the most effective combination of therapies for each patient, he explains.
Genetic factors play a key role in melanoma risk — light hair, eyes, and skin color, as well as freckles and moles. But you can reduce your risk by controlling your exposure to the sun, including use of sunscreen.
Opportunity For Continued Improvement
Along with the good news, the report reveals that:
Previously reported downward trends in death rates slowed or leveled off for several major cancers, including prostate, colorectal, and female breast cancer.
Overall cancer incidence rates continue to increase among females, children, and adolescents and young adults.
Death rates increased for a few cancers. These include brain, other nervous system, and pancreas cancer in both sexes, oral cavity and pharynx cancer in males, and liver and uterus cancer in females.
The report also stated that further reductions in cancer may be achieved by addressing obesity, which could overtake smoking as the leading modifiable risk factor for cancer.
Find Your Perfect Match
Answer a few questions and we'll provide you with a list of primary care providers that best fit your needs.
Source: James Ouellette, DO, Premier Surgical Oncology; National Institutes of Health; National Cancer Institute