Better Diagnosis, Treatments Reducing Cancer Deaths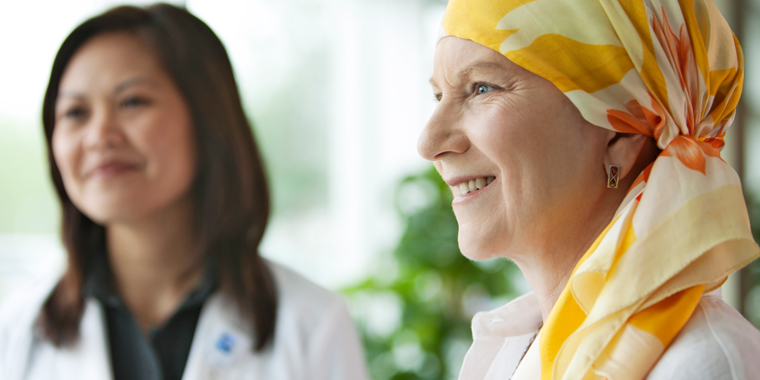 Deaths from cancer in the U.S. dropped 32 percent from 1991 to 2019, says the American Cancer Society (ACS) in a recent report. The decline translates to about 3.8 million deaths avoided.
Yet new cases of certain cancers, such as breast, prostate, and uterine, are on the rise.
Premier Health cancer surgeon James Ouellette, DO, FACS, explains what's driving these trends.
"We've talked about small percentage declines (in cancer deaths) on a yearly basis," Ouellette says. But the new ACS report, he adds, "is really looking at a large timeframe, so we are seeing a big decrease." (Cancer deaths were down an additional 1.5 percent from 2019 to 2020, the most recent data available, bringing the total decline since 1991 to about 33 percent.)
Advances In Detection, Treatment
Significant improvements in chemotherapy and other cancer treatments and early diagnosis are saving lives, Dr. Ouellette says.
Better care includes "different types of chemotherapy, immunotherapy, changes in surgery, and improvements in radiation," Ouellette says.
There's also been a big push for cancer screenings and improved diagnostic testing, such as CT, MRI, PET scans and others.
"We are better at detecting abnormalities which gives us a jump on those cancers when we find them," Ouellette says.
More Research, Screening Improvements Needed
Despite the reduced cancer death rate, the rise in some new cancer cases is causing concern. The American Cancer Society reports:
For breast cancer, changes are needed for "when and how we screen and identify people earlier," Dr. Ouellette says.
Breast cancer screeningis routine. Because of this, combined with women living longer, may contribute to an increase in breast cancer diagnoses in older patients. Improvements are likely needed for screening younger women, he says.
He adds that there are no screenings for endometrial cancer, which may contribute to the rise in cases.
What's driving the rise in prostate cancer is unknown, Dr. Ouellette says. Current studies have yet to uncover a cause but show more patients are being diagnosed with advanced prostate disease.
"Is it a screening breakdown or a different population of people presenting with more advanced prostate cancer?" Dr. Ouellette asks.
The American Cancer Society (ACS) reports that Black men have a disproportionate rate of prostate cancer. The ACS's new IMPACT (Improving Mortality from Prostate Cancer Together) initiative is funding prostate cancer research and increasing support for patients to help reduce prostate cancer incidence and death rates among Black men.
Source: James Ouellette, DO, FACS, Premier Surgical Oncology; CNN; American Cancer Society